Putin speaks candidly to the American people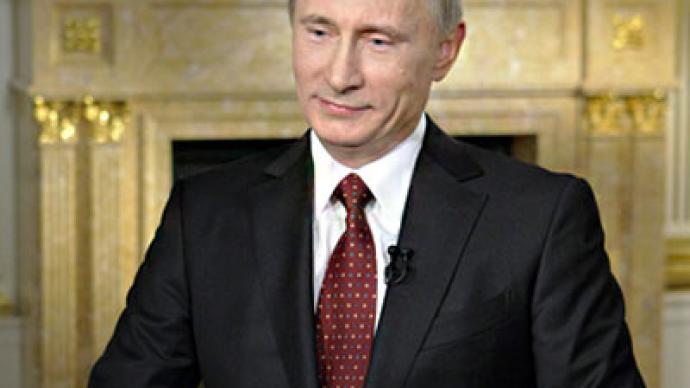 Occasionally pleading with the American people to listen to his words, Vladimir Putin explained Russia's actions on everything from democracy to the possibility of a new arms race.
Larry King, who last interviewed Vladimir Putin ten years ago, opened his interview with a question that seems to follow Russia's Prime Minister everywhere he goes: Will Putin run for president in 2012?
"Well, I've been working with President Medvedev very closely and we decided a long time ago that we would adopt a concerted decision as regards to the year 2012, and in the interests of the Russian people…..There is still a lot of time before the elections take place, in April 2012."
WikiLeaks
On the question of WikiLeaks, the whistle-blowing website that is in the process of releasing hundreds of thousands of sensitive diplomatic cables from US embassies around the world, Putin immediately expressed suspicion with the organization, hinting that it could be used to advance some future political agenda.
"Some experts believe that somebody is deceiving the colleagues, their reputation being undermined for their own political purposes later," he said.
But if such a theory should prove to be inaccurate, "then it tells us that it is necessary for the diplomatic services to be more attentive to their cables," Putin added.
The Russian Prime Minister remarked, however, that he was not surprised by the WikiLeaks release, saying that "such leaks have occurred before…so this is no catastrophe."
A brief history lesson
King asked Putin what he made of a leaked cable by Defense Secretary Robert Gates in which he allegedly told his French counterpart that "Russian democracy has disappeared and the government is being run by security services."
Putin responded with his trademark biting wit, suggesting that there may be others better qualified than Robert Gates, a former CIA chief, to comment on democracy:
"I know Mr. Gates. I've met him on several occasions. I believe he is a very nice person, and he is not a bad expert as well. But it is also known that Mr. Gates was one of the leaders of the CIA (Central Intelligence Agency)…and today he happens to be the Secretary of Defense. Now if he is the best expert on democracy in the United States, then I congratulate you with that."
King persisted with his line of questioning.
"He is being deeply misled," Putin continued. "Our country is led by the people of the Russian Federation through the legitimately elected government."
Putin then provided a brief lesson on American political history.
"As regards the question of democracy…I'd like to remind you that twice – twice – in the history of the United States of America, there were cases when the candidate to the presidency who subsequently became president… were voted by the majority of the electoral [college] , with the delegates representing the lesser number of the electorate as a whole.
"Is that democracy?" Putin implored.
Putin then said that past attempts by the Russian Federation to lecture the United States on its own democratic failings were often met with resistance.
"When we speak with our American friends and tell them that there are systemic problems [with the US Electoral College] in this regard, we hear from them, 'Don't interfere with our affairs. This is our tradition, and it's going to continue like that.'
"We are not interfering," Putin said. "So to our colleagues I would also like to advise: Don't interfere either. This is the sovereign choice of the Russian people. The Russian people have independently made their choice in the direction of their democracy in the early 1990s. They will not be led astray."
Putin said Russia has dismissed such allegations [concerning the perceived condition of democracy in Russia] as a "tool of US foreign policy," saying it is an "erroneous way of dealing with the Russian Federation."
Are Putin and Medvedev superheroes?
King then introduced a comment allegedly found in one of the diplomatic cables to the US State Department that compares Prime Minister Putin and President Dmitry Medvedev to the comic book superheroes "Batman and Robin."
Putin said that although he and President Medvedev were aware that some people might try to disrupt their approach to strengthening the Russian state, he was surprised by the depths that some would go in the attacks, going so far as to call them "unethical."
"We were very aware of the fact that some people might try to [fracture] our joint approach…," Putin admitted. "But to be honest with you, we did not suspect that this would be done with such arrogance, with such a push, and so unethically. 
"Such assertions are meant to slander one of us," he explained, "to get under the skin, and provoke some steps that might disrupt the production interaction in running this country."
He then asked of those who continue with such attempts to "calm down."
The Korean crisis
On the question of the present crisis on the Korean peninsula, which began last week when North Korea attacked a South Korean island while the latter was in the middle of conducting military games, Putin acknowledged the seriousness of the situation and expressed hope that "prudence" would carry the day.
"The situation is very worrisome and acute….Whatever is happening there is happening in the very vicinity of our borders," he said. "Having said that, we hold out hope that sound prudence will get the upper hand, emotions will be shelved, and a dialogue will be started. Without a dialogue it is impossible to come to an agreement."
King mentioned that China is proposing that Six-Party talks begin immediately among the two Koreas, China, the United States, Russia and Japan.
"Do you support that?" he asked.
Putin did not blink an eye and deferred to the Russian President, saying, "The President is in charge of our foreign policy, and this question should primarily be addressed to him."
"But generally speaking," he went on, "Russia is interested in the continuation of that dialogue."
King then inquired if Putin thought that China "should do more to rein in North Korea?"
Putin, while admitting that China had its own "leverage of influence" in regards to Pyongyang, said he supported a more "unified approach" to the Korean crisis, with special importance placed on the "interests of the Korean people, both in the North and in the South."
Iran and its nuclear program
Next up, the Russian Prime Minister was asked for his opinions on Iran, specifically about its nuclear weapons program.
Putin, observing that "Iran has been working on its nuclear program for 20 years already," said that Russia is concerned about the proliferation of weapons of mass destruction everywhere.
Tehran is presently developing its nuclear program for the stated purpose of providing more efficient energy sources for the country. Other nations, however, including the United States, Europe and Israel suspect that the Islamic Republic is, in reality, attempting to build a nuclear weapon.
"We are concerned about any expression of the proliferation or theoretical possibility of proliferation of weapons of mass destruction," Putin responded. "This related to all states, including Iran."
"Having said that," he continued, "we don't have any grounds to suspect Iran in the sense that they seek to possess nuclear arms. But we've been co-operating with all of our partners, including the United States, in the framework of the UN organizations. Up to now, we have been able to adopt concerted decisions."
"Our position is open, and Iran is aware of our position," Putin said.
The Russian Prime Minister stressed that the settlement of the question of Iran's nuclear program is of interest to everyone, including Israel, as well as the Iranian people. At the same time, he said that Iran has the right to implement nuclear programs under the oversight of international organizations.
On the prospects of an arms race
Asked by Larry King if there would be a new arms race unless NATO and Russia find a way to co-operate on a missile defense shield, which the US plans to build in Eastern Europe, the Russian Prime Minister again deferred to the Russian President.
"No," Putin replied. "Speaking before the Federal Assembly, President Medvedev mentioned the fact that we've just put forward a proposal as to how we may co-operate to tackle our shared problems involving security issues."
Such problems concerning missile defense must be addressed together, Putin added.
President Medvedev said in his State of the Nation Address on Tuesday, "I shared my views at the Russia-NATO summit in Lisbon on how a European missile defense architecture could be formed, in which Russia's and NATO's capabilities could be combined in defending Europe from missile strikes."
On the possibility of a new arms race emerging, Putin said that Russia will be forced to secure itself through "different ways and means" should it come down to that.
"If our proposals [on a common missile defense shield] are met with only negative replies, and, on top of that, in the vicinity of our borders there is built additional threats in an already tense region, then Russia will be forced to ensure its security through different means and ways," the premier affirmed.
Concerning the possibility of an arms race breaking out over the issue, Putin stressed that nobody wanted to see such a scenario.
"That's not our choice. We don't want that to happen. But this is not a threat on our part," he said. "We've been simply saying that this is what all of us expects to happen if we don't agree on a joint effort there."
Putin stressed that his words were not meant as a threat, but a realistic approach to the situation.
King responded: "Well, you're saying it's not a threat, but it does sound like a threat."
King went on to quote an article in The Wall Street Journal that says Russia is moving "short-range tactical nuclear warheads near NATO allies as recently as this spring."
"Was that true," the talk show host inquired.
"Larry, please listen to me," Putin said.
"I want you and all of the American people to know this…It's not us who are moving our missiles forward towards your territory; it's you who are planning to mount missiles on the vicinity of our borders.
"We've been told that you will proceed with these plans in order to secure you against, let's say, the Iranian nuclear threat. But such a threat as of now does not exist."
Putin then stressed that in the case a missile defense would be employed close to Russia's borders, Russia would be forced to act.
"Now, if the anti-missile system is employed in the year 2015 near our borders, they will work against our nuclear potential, our nuclear arsenal. And certainly that worries us and we are obliged to take some actions in response.
"We are talking about actions in response," Putin repeated, "not about taking the first initiative there."
Putin then repeated what President Medvedev had told NATO member states in Lisbon during the military bloc's summit, which is that NATO and the United States should be responsible for one sector of European security, and Russia the other.
Spy scandal
King then broached the topic of the recent US-Russian spy scandal, which saw the United States and Russia engaged in a spy swap after the former country deported ten Russians on charges of failing to register their activities with the US State Department.
The prime minister said that the clandestine agents were on American soil in case of "crisis times," in the event when "diplomatic ties are suspended, and other means of intelligence are insufficient or not possible."
Putin stressed that the Russian individuals apprehended in the United States "did not cause any harm to the interests of the United States."
Having said that, Putin reminded television viewers that "every country, including the United States of America, is engaged in intelligence gathering. Nobody doubts that."
Putin then let loose with a devastating comment, which makes the 10 Russians' alleged spying activities in the United States seem almost mundane.
"The activities of our services, compared to the US services, are looking much better," Putin said. "Thank God none of these [Russian] agents…were seen as organizing clandestine prisons, or hostage-taking, or torturing people."
Putin was, of course, referring to events that occurred under the Bush administration, in which the CIA was accused of organizing secret "extraordinary rendition" flights of suspected terrorists into so-called "black site" detention facilities where the United States engaged in "torture by proxy."
Once in office, President Obama signed an Executive Order outlawing rendition torture and created a task force to provide recommendations on ways to prevent such activities in the future.
Some Republicans criticized his move as "endangering American security."
Hail to the King
Wrapping up their second interview together in ten years, Putin delivered a warm toast to the popular American talk show host, who is set to retire soon.
"On the US stage, in the US mass media, there are many talented and interesting people," Putin began. "But still there is just one King there."
"I don't ask why he's leaving," Putin continued. "But still, what do you think. When shall we have the right to cry out, 'Long live the King'? When there will be another man in the world who is as popular as you happen to be?"
King, overcome with emotion, placed his head in his hand, saying, "Thank you, I have no answer."
Perhaps for the first time in Larry King's lengthy career he found himself speechless.