Saakashvili may face questioning over 2008 war crimes
Published time: 10 Apr, 2013 11:06
Edited time: 10 Apr, 2013 11:16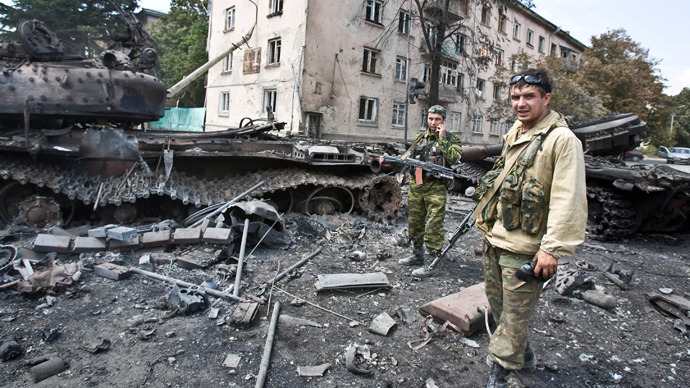 Georgian authorities intend to investigate the complicity of certain high-ranking officials, including President Mikhail Saakashvili, for possible war crimes that took place during the August 2008 war in South Ossetia.
Georgian Justice Minister Teya Tsulukiani has told the press that some Georgian citizens and representatives of foreign NGOs had complained to the International Court of Justice in The Hague about alleged war crimes committed by Georgian officials during the 2008 military conflict with South Ossetia.
However, Tsulukiani said that the Georgian authorities were determined to try the case domestically in order that for it not to require the involvement of international courts.
"We must investigate our problems ourselves. My objective and the objective of the Prosecutor-General is to investigate these events by ourselves.  If we fail to do so, the case would be heard on the international level and I do not think that such outcome is desirable for the Georgian people," Tsulukiani told reporters.
The official did not exclude the possibility that Georgian President Mikhail Saakashvili would have to testify in the investigation. At the same time, she noted that by the time of the questioning Saakashvili's presidential term would likely be over.
Tsulukianui added that other top-ranking officials could face questioning "without regard to their nationality or ethnic origin,"
Saakashvili's second and final presidential term expires in October this year.
Georgian Prime Minister Bidzina Ivanishvili has said that in his opinion, an investigation of the 2008 war could only help Georgia's reputation, that the reasoning behind many Georgian actions in the war remained unclear to this day, and that society has the right to know the truth.
The Georgian army launched a full-scale attack on the capital of the breakaway republic of South Ossetia on August 8, 2008, violating a truce and killing Russian citizens and peacekeepers stationed in the city under the mandate of the Commonwealth of Independent States. The Russian military intervened, and within five days the conflict was over. In late August, Russia recognized the independence of South Ossetia and another breakaway republic, Abkhazia.
In September 2009, an international commission backed by the European Union completed its probe into the August conflict and published a report stating that the military incident was initiated by Georgia, that the Georgian side had no right to attack Russian peacekeepers, and that Russia's reciprocal use of force was entirely lawful.