Georgia may seek revenge over Ossetian War – Moscow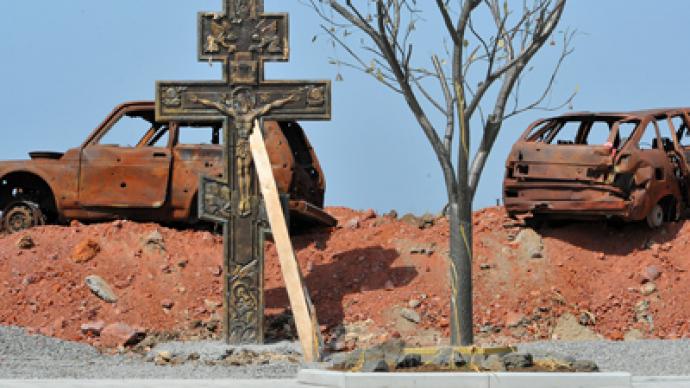 Four years on after the August 2008 war in the Caucasus, Georgian authorities are still considering seeking revenge and using force against South Ossetia and Abkhazia, says the Russian Foreign Ministry.
The situation on the border between Georgia and the Republic of Abkhazia is alarming, according to Deputy FM Grigory Karasin.Georgian Special Forces penetrate into Abkhazia's Gali District and "persistently terrorize the local population," he stated in an interview with RIA Novosti. In this way, he went on, Tbilisi is attempting to destabilize the situation in the region. This shows that Georgian politicians still consider revenge scenarios and the use of force to restore their territorial integrity, the Russian diplomat observed.Ahead of October's parliamentary vote, Tbilisi is "whipping up fears about the threat from Russia," Karasin pointed out. Hysteria about Russia's planned military drills, Kavkaz (Caucasus)-2012, has been going on for about a year."There is an outcry about some kind of plans by Russia to carry out an aggression, to destroy the Georgian statehood," he said, adding that it is all part of the Georgian "propagandistic delirium." According to the diplomat, the international community has got used to President Mikhail Saakashvili's lack of restraint: the Georgian leader makes warlike statements all the time. Accusations against Moscow should be viewed appropriately, taking into consideration "emotionality and provocative nature of Georgian leadership's intentions," Karasin noted. Russia hopes that common sense will eventually prevail in the former Soviet republic. However, that will take time as Georgian authorities have yet to realize that hysteria should be replaced with serious politics, the deputy foreign minister stated. As for Kavkaz-2012, Karasin reminded that the Russian leadership and diplomats have repeatedly given explanations about the war games scheduled for September. On Tuesday, senior military official, Aleksandr Posntikov underlined that the upcoming exercises do not pose a threat to any other countries or military and political blocs. The drills will only be held on Russian territory."Our exercise has nothing to do with events in other countries, including in Georgia," Colonel General Postnikov said, cited Itar-Tass. "However, in order to rule out any possibility of speculations on that issue, our military bases in Abkhazia, South Ossetia and even in Armenia will not participate in the Kavkaz-2012 exercise," he stressed.