Medvedev: August 2008 must not be forgotten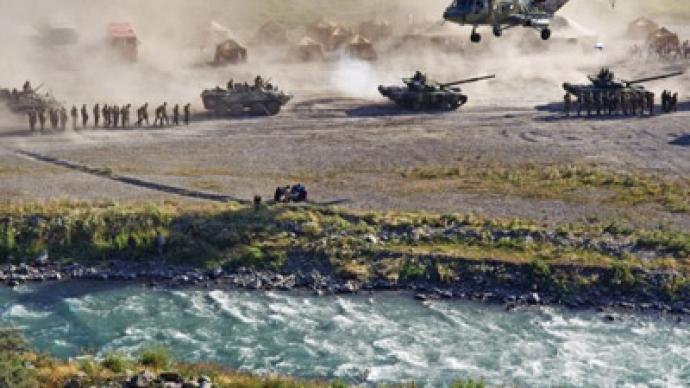 Russia's President Dmitry Medvedev has stressed that it's vital to remember the tragic events of August 2008 in South Ossetia so such conflicts would never happen again.
"It is very important that we return to those events today," Medvedev said at a meeting with participants of the military operation in South Ossetia and the creators of the new Russian film August 2008. "It's important for all our citizens, for the memory of our comrades who died defending the citizens of our country and other people, and to ensure that such events never occur again," he said. If a similar situation happens again, Russia's "response must be just as hard, decisive, harsh and efficient and sufficient both in scope and in consequences."The president recalled that back in 2008 foreign media reported that Russia "attacked a defenseless state" (Georgia), while in fact, he pointed out, "our army was saving people." The truth must be able to defend itself, Medvedev stressed.The president noted that the Georgian leaders gave their own assessment of the Five-Day War. But "we know who the aggressor was, who attacked [the South Ossetian capital Tskhinval] on August 8." He pointed out that nowadays everyone is aware that Tbilisi launched the war, but while some freely admit it, others keep silence or lie.Speaking about the new Russian film based on the events of the war, the president pointed out that "it's crucial that [the film] doesn't elicit anger towards Georgians." The war was not their fault, but the fault of the Georgian leaders who made that decision, he noted.On Thursday, Russia's Investigative Committee said it has incontrovertible evidence of crimes committed by Tbilisi during the war. The body is set to institute criminal proceedings against the Georgian authorities through international organizations, RIA Novosti reports. The committee also said that the allegations made by Georgian authorities about crimes committed by the Russian military during the conflict are false. "In their application to the European Court of Human Rights, the Georgian authorities groundlessly accuse Russia of the absence of an efficient investigation into crimes allegedly committed by Russian troops… The statements by the Georgian side are untrue," Investigative Committee spokesman Vladimir Markin told journalists.During the questioning of witnesses, neither Georgian servicemen nor South Ossetian citizens, including ethnic Georgians, reported any illegal actions by the Russian military, Markin added.
You can share this story on social media: