State Duma ends spring session as new elections draw nearer
Published time: 8 Jul, 2011 09:25
Edited time: 8 Jul, 2011 14:55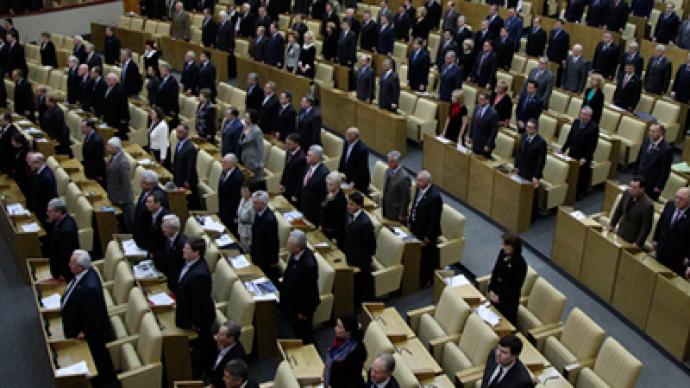 The parliament's lower house went into summer recess on Friday, citing the Law on Police and legislation on law enforcement agencies as the main accomplishment of the past session.
­State Duma speaker Boris Gryzlov summed up the results of the lower house's work during the spring, which having completed the penultimate session before this December's parliamentary elections.

The speed and the quality of the lawmaking process must not depend "on how soon the elections are," Gryzlov said in a speech before closing the session. The Duma is creating a "legal framework for tackling the problems of the country's development," he stressed.

The speaker, who also chairs the ruling United Russia party's supreme council, said security was the key issue for people's quality of life. During the spring session, the deputies passed the Law on Police which kicked off the president's reform of the law-enforcement agencies.

The law, which appellatively transformed Russia's militia into a police force, determines the rights and commitments of officers and the ways in which a society must govern its actions.  On President Dmitry Medvedev's initiative, the draft bill was published for the first time online to get feedback from citizens. Although the bill got mixed reactions, many outside proposals were included in the document's final text.   

Deputies will continue to provide legal backing for the reform of law enforcement bodies, Grylov assured. Additional legislation will deal with social guarantees for police officers and the regulation of their service conditions. But the most important task for the parliament now "is to keep reforms in the law enforcement area under control," the speaker noted.

The Duma also adopted new legislation aimed at fighting corruption, including an increase in fines for the taking of bribes. Anti-terrorism legislation and laws concerning the fight against drug addiction were also amended.

In the economic arena, Gryzlov mentioned the bills which had passed with the expressed purpose of stimulating innovation, growth, and modernization.

Being election year, deputies will be gearing up for the new race, Gryzlov noted. In fact, lawmakers will spend the two months of summer meeting with potential voters. The people's proposals should be incorporated into the parties' election programs, the speaker said.