Duma passes new Law on Police despite "no" from opposition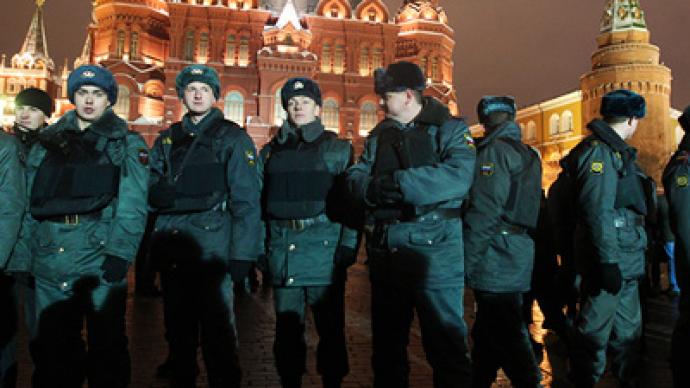 Russia's lower house, the State Duma, has passed the new Law on Police in the third reading. All three opposition parties voted against, but the ruling United Russia's 315 voices were enough to adopt the legislation.
The law, which got quite a controversial reaction from the public, introduces a number of significant changes to the work of Russia's law enforcement agency. The document clearly defines police officers' rights and duties, and sets some new limits to their authority. At the same time, though, the agency gets more rights when it comes to providing security in places that could potentially be targets of terrorist attacks. In addition, it gives it a new name – "politsiya" – as opposed to "militsiya", which it inherited from the Soviet Era.In addition, the staff of the Russian police will be reduced by 20 per cent by January 1 next year. According to the Internior Minister Rashid Nurgaliyev "only the best of the best" will stay. The opposition is not extremely happy with the law and therefore voted against it on Friday. According to the leader of the "Fair Russia" party in the Duma, Nikolay Levichev, the law leaves space for different interpretations which could be used to violate citizens' rights. The party demanded that the "backlash" should be removed and hoped for "a constructive dialogue". However, he said as cited by Interfax, those hopes were not realized. MP Vladimir Kashin expressed the opinion of the Communist Party by saying that in the final version of the draft, "bureaucratic interests" were put above the idea of a true reform. "Instead of bringing things to order, it was decided to simply change the name [of the police]". He concluded that today's Duma decision was a "big mistake."Andrey Lugovoy of the Liberal Democratic Party (LDPR) agreed with other opposition parties.He said that his party approved the general idea of the draft when it was considered in the first reading. But the party changed its opinion when it was discovered that only "technical" amendments had been made. The law is a key element of a major reform of the Internal Affairs Ministry launched by Dmitry Medvedev in 2009. As the president stressed repeatedly, its main purpose is to make the Russian police work more efficiently and transparently.Before being finally passed, the law went through several stages, both on the level of legislators' debates and on the internet – by ordinary citizens. For the first ever time, on Medvedev's initiative, the draft was published online for the public to express their opinion. Some of the proposals Russians made during the nationwide discussion were later added as amendments to the bill.The law has yet to be approved by the upper house, the Federation Council. It must then be signed by the president and, finally, published in the state media. Once these steps have been taken, the law will come into force on March 1.
You can share this story on social media: