Opposition leader Udaltsov, in hiding, prepares for questioning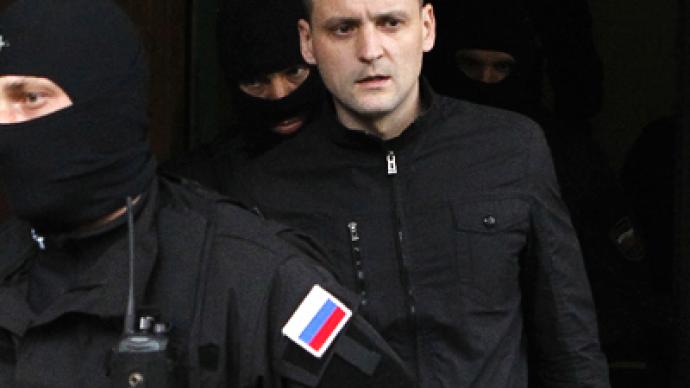 The opposition Left Front Movement's Sergey Udaltsov, whose whereabouts remain unknown, has explained why he is hiding. Suspected of organizing mass riots, he said he plans to arrive for an interrogation on his own, "without handcuffs and sticky tape."
­The questioning of the opposition leader is scheduled on Friday. It is expected that Udaltsov will be officially charged with conspiracy to organize mass riots. This crime carries a sentence of up to 10 years in prison.

Udaltsov said such "safety tips" are because has been under "vigilant surveillance" and "six or seven people follow [him] everywhere."

Kommersant Daily reported Wednesday that Udaltsov disappeared on Monday – turned off his phone, did not show up at rallies, and only keeps in touch with his lawyer, Violetta Volkova. The newspaper speculated that Udaltsov may try to leave Russia. However, the activist's lawyer denied such a possibility, saying her client has no opportunity to do so.

Udaltsov was released after questioning last week under a pledge not to leave Moscow.

The same newspaper also reported that Udaltsov's wife, Anastasia, and children have already left the country and are in Ukraine. But the woman denied this information, accusing Kommersant of sensationalism. She said her sons have been living in Ukraine for six months already, because they study there, and she was visiting her children, but not hiding.

Udaltsov's latest statement on Twitter follows the events around opposition activist Leonid Razvozzhaev, another person involved in the case.

He was detained in Ukraine, and then, as Razvozzhaev claims, tied hands and foot with tape, taken to Moscow, and placed in custody.  

In a Moscow court, Razvozzhayev confessed that the money for protests came from Georgian political strategist Givi Targamadze. But at the same time he claimed that he was forced to make the confession.

It sparked media suspicion over law enforcement methods, and attracted the attention of human rights activists and fellow oppositionists.

Russia's top law enforcement agency announced that it will investigate the claims of kidnapping and torture.

Last week, Russia's Investigative Committee launched a criminal case against Kostantin Lebedev, Udaltsov and Razvozzhayev, who is an aide of State Duma Deputy Ilya Ponomaryov.

A Moscow district court also ruled to arrest Udaltsov's aid, Lebedev. He will be in custody until December 16.

The probe was launched after investigators examined claims made in the controversial documentary "Anatomy of a Protest 2," aired on Russian channel NTV in early October. The film showed what its producers claimed to be footage of the suspects meeting with Georgian officials, where they allegedly discussed preparations to organize mass riots against Vladimir Putin's government in Moscow and other Russian cities with financial support from abroad.