Mumbai massacre prompts massive Indian vote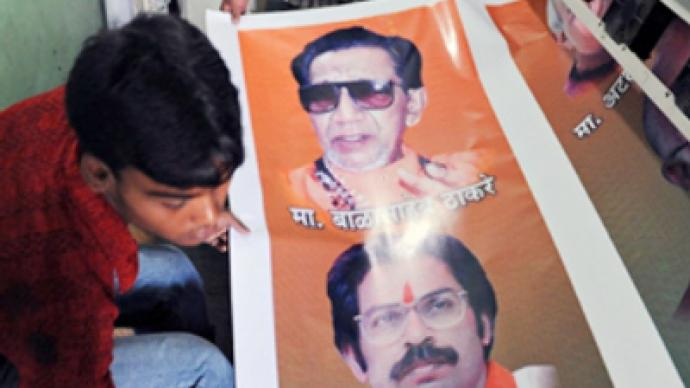 'The change you want is just a vote away' is the mantra for India's youth in this year's parliamentary elections.
India's younger generation doesn't want their anger over the Mumbai terror attacks to go to waste, so the majority of them have vowed to vote this time.
The change in the attitude of urban Indian youth reflects a new mood that set in after last year's terrorist attack in Mumbai. The 'who cares?' attitude has changed to 'wake up and vote'.
As more and more Indians feel vulnerable and unprotected by their leaders, a realization has dawned on the urban elite that things are rotten in the country and if they do not stand-up and vote, nothing will change.
Nearly 50% of Indians are under 25 years old, thus making it one of the youngest democracies in the world.
Lavanya Sharma, 25, who works as a marketing professional with Deutsche Bank in New Delhi, said, "Earlier I used to feel, why I should vote? What's the big deal in it and what one vote of mine will do? But now I believe that if we don't wake up and vote, our country will always be left to corrupt politicians and we will never be able to free ourselves from the shackles of terrorism and corruption."
Thomas Uledar, 26, an English teacher from Mumbai who miraculously escaped from Mumbai's Cama Hospital attacks in November last year said he has even checked out the education and qualifications of the candidates to see who is best.
Uledar, a Christian by religion had come to see the baby girl his sister had delivered when two of the ten attackers tried to shoot them. "But their machine guns jammed and they went away," he said recounting the fear.
The feeling that the state government failed to prevent 170 people dying in the three-days of the Mumbai attacks has forced the youth to take an interest in politics.
Earlier it used to be rural Indians who came out to vote in large numbers, surpassing the turnout in urban areas but this year it's different. College-going students have taken to social networking sites like Facebook, Twitter and MySpace to spread the awareness.
"For Indian youth, there was an explosion of anger after the Mumbai attacks. We don't want that anger to go wasted," says Amit Kirti, an ex-army officer who lost his batch mate Major Sandeep Unnikrishnan in the Mumbai attacks.
"Young India is restless and desperate for honest political leaders, for better security, for good governance. It's high time we realised the importance of one vote that can change the way our country is governed."
In past elections, India's middle-class youths blew off voting as a waste of time but this year they organized blog meets and communities on social networking sites to discuss the political issues.
Divya Aggarwal, who has just finished her 12th class exams and is eligible to vote this year, said she wants to take politics as her career. "In our generation, every third person wants to become a doctor or an engineer; nobody wants to be a politician. It came to my mind that why can't I be a politician if I have interest in politics?"
When asked how she plans to achieve the goal, Aggarwal said she will pursue Political Science in her graduation and also join various social networks on the Internet to read what major issues are discussed.
Many youngsters took to Facebook to set their profile status as "Rise-up India and Vote", "Vote for Good Governance". At a time when youngsters are busy with their own aspirations, the attacks forced them to question the politician's role in securing the nation.
An estimated 100 million young voters have qualified to participate in this election. Indian political analysts say young voters will play an unprecedented role in this year's vote, which will determine the composition of India's next government.
Youth leaders come to the fore
India's past three Prime Ministers have all been older than 70 and suffered health issues. Current Prime Minister Manmohan Singh, 76, also recently had coronary bypass surgery.
This year has seen a complete turnaround. The election saw a major change in the form of young leaders who all are in their thirties, most of them inspired to take up politics after recent Mumbai attacks.
Milind Deora, 32-year-old Congress candidate in South Mumbai said, "The sense of history dawned on me when I was out on the bloodied streets of Mumbai in November 2008, pitching in to do whatever I could to save lives. In light of the Mumbai terrorist attack and the global financial crunch, I'm convinced that leadership with conscience is the need of the hour."
"I was shocked to find that the leaders who established a media presence on the strength of a politics of hatred were missing when we needed them to lead the people and offer resolution. Instead, they went into hiding, thereby disclosing their incapability – and their terrifying indifference," Deora added.
Outrage over the Mumbai terrorist attacks, Meera Sanyal, head of Royal Bank of Scotland Group Plc's India decided to chuck her career to be a politician. The 47-year-old is an independent candidate in national polls. She does not belong to any political party or camp.
"This is who I am. This is what I stand for. As a citizen of India, I am entitled to exercise my fundamental right to contest the elections. I am doing just that regardless of the outcome."
Another political party that is the least 'political' and most talked about this year is the Professionals Party of India (PPI). Mona Shah, an eye surgeon belonging to the newly formed party is one of 14 other candidates contesting the South Mumbai seat.
Girish Deshpande, media coordinator of the Professionals Party of India (PPI) said, "Our objective is to change the way we are being governed. For that, we need to improve the quality of people coming into parliament, and change the issues debated and policies churned out. We also need to alter the way systems are made to work for the man on the street."
The party is youth-centric and has doctors, scientists and engineers running in the election –precisely the kind of people who, for decades, had stayed away from politics. The youth of India earlier called the politics a 'dirty' game best left to politicians while they pursued their professions and businesses, but now the attitude is changing.
Congress is also heavily relying on Rahul Gandhi, the 38-year-old heir apparent of the Nehru-Gandhi political dynasty, who draws thousands of youths to rallies. Known as India's 'most eligible bachelor', the politician often visits campuses, where students jostle to take his picture.
"On the footsteps of the past, we are looking at the future," says a campaign poster for Rahul Gandhi, that shows him wearing a Nehru coat, named after his great-grandfather Jawaharlal Nehru (India's first Prime Minister).
Its main rival, the Hindu nationalist Bharatiya Janata Party (BJP) is also making efforts to woo youths by inventing its own version of Facebook, where candidates continuously update their profiles.
Its octogenarian leader, L.K. Advani, has also come up with the idea of writing his own blog and has his own website, both of which attract the attention of India's Internet savvy youth.
Bollywood urges Indian youth to vote
In a country where the majority of the billion-plus population is young people, a number of Bollywood stars and celebs have come together for a music video that will urge the youth of India to vote in the coming elections. A host of Bollywood stars featured in the video include Kareena Kapoor, Deepika Padukone and Katrina Kaif.
The elections kicked off last Thursday. Votes will be counted in the five-phase elections on May 16, according the Election Commission of India, the agency that conducts polls in the country. About 714 million voters are eligible as the world's largest democracy elects 543 lawmakers to the Lok Sabha, or lower house of parliament.
Nidhi Sharma for RT
You can share this story on social media: