Pussy Riot member appeals court ban on internet videos
Published time: 4 Dec, 2012 13:38
Edited time: 4 Dec, 2012 17:38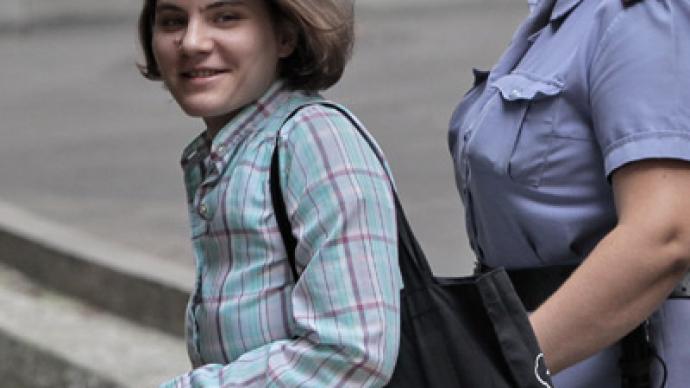 One of the members of the Pussy Riot punk band has appealed the Russian court ban on internet videos of the group's songs and stunts that were deemed as extremist.
"The court has received the appeal submitted by Yekaterina Samutsevich, who seeks to cancel the decision to recognize the punk group's videos as extremist as this decision is unlawful and unfounded," the press secretary of the Zamoskvoretsky District Court has told reporters.
It is expected that the court will not accept the appeal as officials told Samutsevich that she could not appeal the ruling on the video ban because it concerns the internet providers and state watchdog, not the owners or suppliers of illegal content.
The young woman officially protested this ban and then without waiting for the hearings proceeded to appeal the main case.
Regardless of these legal hindrances, the punk singer told the press she personally considered the ban on videos unlawful and wrong, the group would continue its activities and if access to the videos is blocked in Russia they will take measures to create mirror sites abroad to bypass the ban.
The court ban on Pussy Riot videos was issued in late November after an official request by the prosecutors' office initiated by an MP representing the populist Liberal Democratic Party. In accordance with the new Russian law if providers do not block the now illegal content their resources would be taken down completely. The verdict has not yet come into force as the term for appeal has not yet expired.
In particular, the court banned the most well known of the Pussy Riot videos – the "punk prayer" in Moscow's main cathedral entitled "Our Lady, draw Putin away". The court agreed with the opinion of forensic experts who said the Pussy Riot clips were "a disguised call to organize mass riots". The experts also agreed that the videos insulted the feelings of Orthodox believers.
On August 17 this year, three Pussy Riot members, including Yekaterina Samutsevich were sentenced to two years each for aggravated hooliganism for their performance of the 'punk prayer' in the Cathedral in February.
However, in October Samutsevich, was released on probation after she replaced her lawyer and the new team successfully appealed her conviction.