Medvedev calls on punishing officials for ignoring citizens' appeals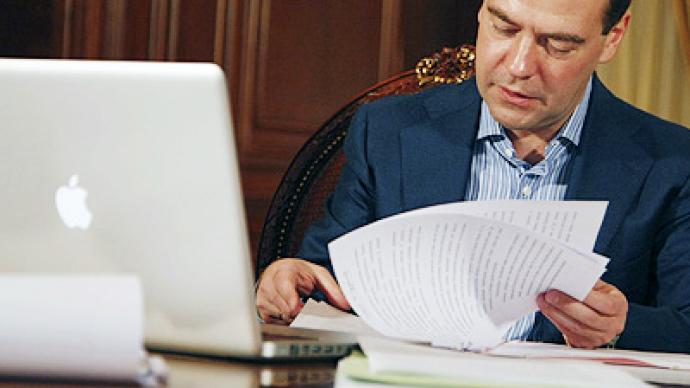 Dmitry Medvedev has urged the introduction of administrative responsibility for officials who delay the consideration of citizens' complaints and proposals.
The president has held the first ever online consultation with Russian citizens.Thanks to modern technology, Medvedev could connect right from the capital to presidential offices that were opened today in all the 83 constituent units of the Russian Federation. Citizens who came to the offices could ask their questions to the head of state or say what worries them and what they want done about these issues."Many people complain about authorities and their formal approach to their complaints and letters. Heads of regions and municipalities should take such appeals under special control," Medvedev said on Monday during the video Internet-conference."It is time to make these appeals lead not only to direct reaction from the authorities, but perhaps also to a disciplinary and administrative responsibility in case of officials' refusal or delays in addressing such issues," he stated, cites Itar-Tass. The president specifically underlined that it is necessary to pay attention both to the period of consideration of people's appeals and to what exactly they want. It is unacceptable that bureaucrats give people the runaround, he stressed. If a problem cannot be solved immediately, officials should explain why rather than simply brushing it aside.The majority of issues citizens brought up during the virtual meeting with the head of state related to problems in social sphere – providing housing, problems with gas, water and heat supplies, and high tariffs on these utilities.The president noted that about 90 per cent of all the appeals are within the bounds of regional authorities' competence and it is they who should deal with those complaints. "If I spend my time [dealing with that], [authorities] all the more should," Medvedev said.The president noted that presidential offices provide for a completely new format of addressing people's appeals. "Naturally, it means a higher responsibility of those who will deal with it. It is important that people who make appeals monitor the results of their appeals," he stated.Electronic media outlets and information technology, including the Russian President's official website, should provide such an opportunity, he added. In addition, presidential electronic reception rooms will appear in 48 of Russia's constituent areas.
You can share this story on social media: