Russia mustn't rely on foreigners to solve orphans' problems - Medvedev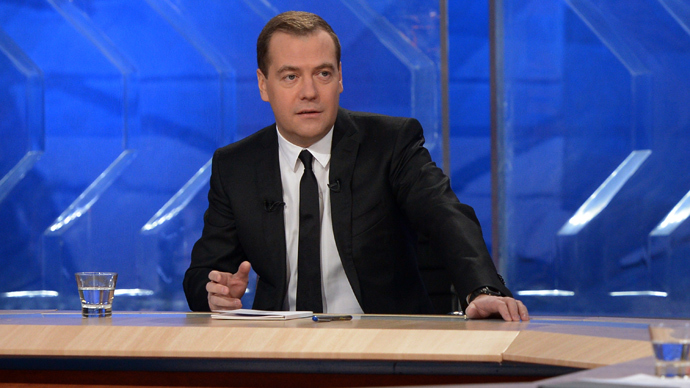 Active discourse around restrictions on foreign adoptions has resulted in serious improvements to Russia's domestic adoption rules and the change is already yielding results, Prime Minister Dmitry Medvedev said.
In the first nine month of this year the number of kids who found new families inside the country grew by 5,000 compared to the whole year 2012, the PM said in a live interview to Russian TV channels on Friday.
"This is a good result. It means that certain moral mechanisms have been switched into action.Our objective was to attract public attention," Medvedev told journalists. "This is a difficult and complicated subject, yet we must do everything to ensure that our children in orphanages find new families."
Medvedev also explained that most of the children who lost the opportunity to be adopted by American families after Russia suspended the adoption agreement with US have already found new families in their homeland.
"In all, we had 259 kids who were about to leave for America. All but 95 of them still have not received accommodation in a new family," he reported. "We will definitely bring this process to its logical conclusion."
Medvedev also noted that while people can have different attitudes to the Dima Yakovlev Law, it is impossible not to acknowledge the fact that Russian people must take care of the orphaned kids and not rely on "kind aunts and uncles from various countries."
The law, signed into force in the last days of 2012, is a broad act introducing sanctions against foreign citizens responsible for Human Rights violations. The law also includes a ban on adoption of Russian children by US citizens or by proxy of a US organization. The measure was taken due to the US side's extreme uncooperativeness in investigating numerous cases of ill treatment and sometimes even the manslaughter of adopted Russian children in America.
The initial act banning US adoptions caused a wave of protests in the Russian mass media, the internet and sometimes in Russian streets. Opponents of this measure noted that it would deprive tens of thousands of Russian orphans of the chance for a better life across the ocean, adding that US citizens often adopted sick kids who otherwise had very slim chances of finding a new home.
However, a poll conducted by the All Russian Public Opinion Center in January 2013 showed that 76 percent of Russians supported the ban.
In July, Russian legislators passed a bill that banned adoptions by foreign same-sex couples and in September the coal-mining territory of Kemerovo voted to completely outlaw adoptions of local children by foreigners, making their region the first subject of the Russian Federation to introduce such a radical measure.
You can share this story on social media: