Duma gives final approval to same sex couples adoptions ban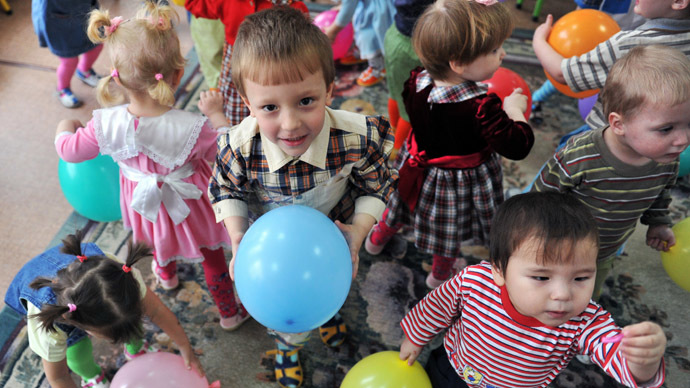 The Russian Lower House approved the bill that includes a ban on adoptions of Russian children by foreign same sex couples.
The bill on state help to orphans and children deprived of parental support was passed by a unanimous vote with 444 MPs voting for it. The document provides for a radical increase in allowances to foster families and also allows state sponsorship of medical help that Russian orphans receive abroad. Also the adoption procedure has been simplified – court decisions allowing adoptions will come into force in 10 days instead of the previous 30 days, and the law allows judges to overturn the rule that adopted children and would-be adoptive parents must have at least 16 years age difference.
Those who wish to adopt a child will also have all obligatory medical tests done for free and the expiration terms for their documents will be prolonged.
The bill also includes the amendment that bans the adoption of Russian children by same sex couples and also by unmarried individuals from countries where same sex marriage is legal.
This amendment caused a heated discussion in the media and society, especially as it arrived shortly after another controversial initiative – the ban on propaganda towards minors of non-traditional sex. Russia does not allow same sex marriage and some MPs have voiced an initiative to detect de-facto same sex couples and prevent them from raising children if they had adopted any. This move, however, has not yet been formally drafted as a legislative initiative.
The idea to ban same sex adoptions appeared in Russia as the issue of legalizing same sex marriage was discussed in France earlier this year. Eventually French legislators passed it, despite some protests, and the first same sex wedding took place in Montpellier in late May.
France is one of a few countries to have a bilateral agreement with Russia on adoptions and last year it ranked fourth by the number of adopted Russian children (after US, Italy and Spain).
In early June President Vladimir Putin told reporters that he would support the ban on adoptions by foreign same sex couples if parliament approves it.

You can share this story on social media: