Russia to change agreement with France to prevent adoption by same sex couples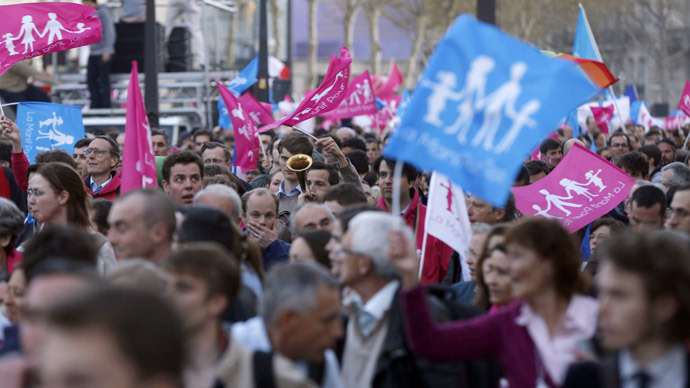 President Putin said that it was "possible and necessary" to react to the legalization of same sex marriage in France, so that Russian orphans could not be adopted by French same sex families.
"We treat our partners with respect but we also ask them to show equal respect to our cultural traditions, our life and our ethical, legislative and moral norms. I think that we have the right to make correction and changes" Putin told a meeting with Russian lawmakers on Friday, when the head of the legislative assembly from the western region of Kaliningrad expressed concern that the legalization of gay marriages in France which could lead to adoptions of Russian orphans by same sex families.
France is one of few countries that have bilateral agreements with Russia on adoption. It ranks fourth in the number of adopted Russian children.
The head of the Upper Chamber, Valentina Matviyenko, told President Putin that the Russian Foreign Ministry was already working on changes to the adoption agreement with France.
Earlier this week the French parliament gave its final approval to the bill allowing same sex marriages in the country as well as the adoption of children by same sex couples. The bill is yet to be signed by President Francois Hollande, but given that the move was one of the key promises in Hollande's electoral program the deal can be considered sealed.
The legalization caused massive protests in France, with thousands of people demonstrating in Paris demanding the authorities respect traditional values.
Russian officials have warned France of the possible consequences of the move. Presidential Plenipotentiary for Children's Rights, Pavel Astakhov, said in a recent newspaper interview that the authorities were very resolute over the issue.
"Our position is stated in our basic laws – in the Constitution and in the Family Code. They directly state that only a union of a man and a woman can be considered marriage. We have nothing else. Period," Astakhov told Rossiiskaya Gazeta daily.
President Putin said during a recent visit to the Netherlands that the legalization of same sex marriage was against the Russian mentality and traditions, could lead to a surge of violence and was, therefore, extremely undesirable. He also noted that however hard the activists try to protect same sex marriage, such a marriage would never produce children.
At the same time, President Putin claimed Russian authorities were not violating the rights of sexual minorities and vouched to personally protect these rights. "I hold that these people do not have any other President for themselves and I, as a President, is protecting their rights," Putin said.
You can share this story on social media: