Duma bars Russian children from adoption by foreign same sex couples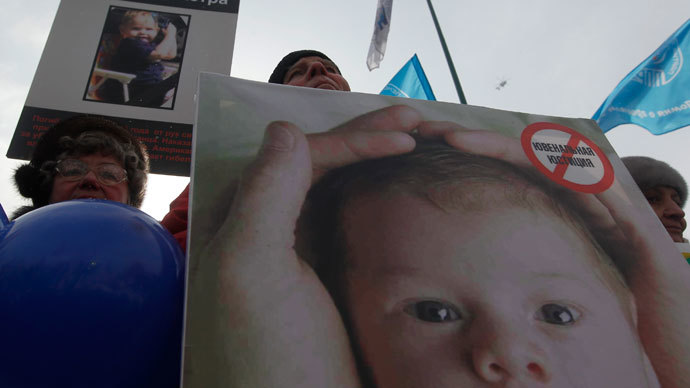 Russia's Lower House has passed an amendment that bans the adoption of Russian children by same sex couples from abroad.
The amendment was passed on Tuesday as the State Duma approved the second reading of the bill to protect orphans.
The amendment also forbids single people who are citizens or permanent residents of countries that allow same sex marriage to become adoptive parents or legal guardians of Russian children.
Russia itself does not allow same sex marriage and the country's authorities have passed a number of regional and federal bills banning the promotion of gay and other "non-traditional" sex to minors – a move considered as discriminative by a large part of society.
Another related move was the adoption in late 2012 of the so called 'Dima Yakovlev Law' – an extensive act that forbids, among other things, the adoption of Russian children by US citizens or by proxy of US organizations. Russia said it was prompted by a number of cases where US authorities refused or failed to cooperate in the investigation of cruelty or even death of adopted Russian children by their US adoptive parents.
The US authorities have blamed the poor cooperation in part on law enforcement on the complicated relationship between federal and state laws.
Russia is currently working to sign bilateral agreements on child adoption with other countries. One of the first to sign such agreement was France, and over the past few years it ranked fourth by the number of adopted Russian children after the United States, Italy and Spain. After France legalized same-sex marriage in May 2013 Russian officials said that the adoption agreement must be urgently changed.
President Vladimir Putin said in a recent interview that he would sign the ban on adoption by foreign same sex couples if the Russian parliament passes such bill. State Duma Speaker Sergey Naryshkin said last week that the Lower House will give its final approval to the bill in June.

You can share this story on social media: