Medvedev satisfied with interstate integration on post-Soviet space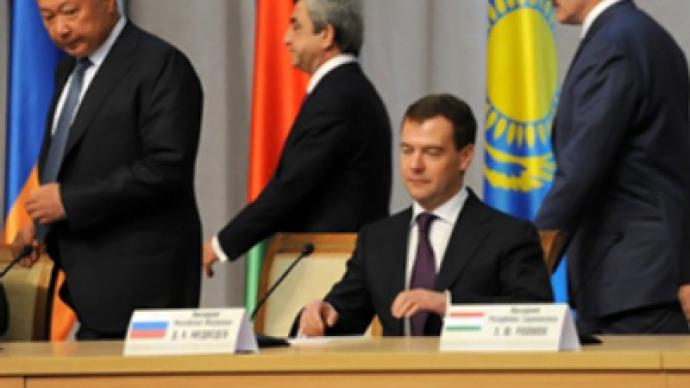 Russian President Dmitry Medvedev highly appreciated the results of the summit of the Inter-State Council of the Eurasian Economic Community (EurAsEC) and the Customs Union summit, both of which he attended.
Both summits were held in the Belarusian capital of Minsk on November 27.
Medvedev met with the Presidents of Belarus and Kazakhstan to sign an agreement on the Customs Union between the three ex-Soviet nations and approve a customs union due to come into effect at the start of 2010.
"The Customs Union is a real economic institution in fact, not in word," Medvedev told Interfax news agency.
Medvedev has called the Customs Union "a prelude to the Common Economic Space enabling us to conduct joint policy, overcome economic obstacles, promote investment and create uniform rules."
The Russian President believes that "the Common Economic Space is a prototype of deeply integrated economies resembling the EU."
The Presidents of the EurAsEC member countries – Belarus, Kazakhstan, Kyrgyzstan, Russia and Tajikistan – have discussed every aspect of integration processes within the community.
The same day Medvedev held a bilateral meeting with Kyrgyz President Kurmanbek Bakiyev, in which they discussed Kyrgyzstan possibly joining the Customs Union.
The Russian President also visited the new Russian Embassy in the Belarusian capital.
You can share this story on social media: