Kudrin calls for new right-wing force in Russian politics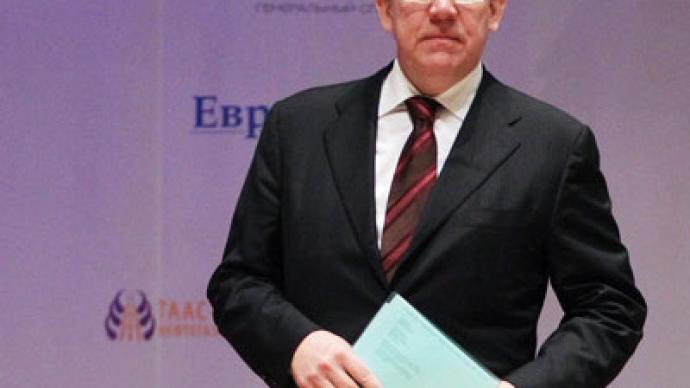 Former Finance Minister Aleksey Kudrin has expressed confidence that a right-wing party will emerge in Russia and that he is ready to participate in its creation. He also noted that he would not say he and PM Vladimir Putin are like-minded people.
On Monday, the Russian business daily Vedomosti published Kudrin's first interview since his high-profiledismissal in late September. According to the former minister, the December 4 parliamentary election was "an interesting phenomenon" which had turned up the heat on political discussion and with its, political activism among citizens. The dip in support for the majority United Russia party was "a rational result." Despite numerous examples of election violations, people clearly showed their political preferences, Kudrin said. "The ruling party will have to search for compromises with other parties. Their decisions will not be passed as easily as before," the politician observed. "At this vote we faced a peculiar situation: citizens want to highlight and discuss the fairness and legitimacy of the elections," and in this sense they are dissatisfied with the election results. Kudrin said that he did not cast his ballot for United Russia, but refused to reveal which party had got his vote.Describing his attitude to the Putin-led party, the politician recalled that about five years ago he had hoped that United Russia could become "a very civilized right-centered" party. Historically, liberal views do not get wide support in Russia. Therefore a right-centered party would become a very reasonable choice for the country, Kudrin said. United Russia had been pursuing that course till 2007, but then it changed its policies and has now turned left-of-center."The State Duma elections were a blow to the ruling party. Unfortunately, United Russia was found failing to fulfill its promises. Protection of business, elimination of corruption, a fair court system and the state's presence in the economy – no cardinal changes have accrued in any of these fields, despite promises," Kudrin told Vedomosti. He observed that as a pragmatic political force, United Russia will turn away from populist statements and towards reality, but while they are getting their thoughts together, a new liberal party – formed with experienced business people – will emerge and start talking about these problems. Today, there are no liberal parties at all on Russia's political stage, Aleksey Kudrin observed. "The demand for the creation of such a [political] structure is so high, that it will inevitably be established," he stressed. "I am absolutely sure [about that] and I am ready to contribute to that."The former finance chief added though that at present there was no talk of even a remote possibility of being offered a chance "head the process."Kudrin was also asked to comment on his relations with his one-time ally, Prime Minister Putin, after his dismissal. "I continue to respect him despite disagreements on a range of issues," Kudrin said. "I would not say that I and Vladimir Putin are like-minded people. Generally speaking, similarity of views is bad and it means stagnation." The minister, who was sacked after a public row with President Medvedev, has repeatedly criticized the leadership's economic policies and particularly the decision to increase the defense budget. Kudrin insisted that it would pose a threat to the support and development of the education and healthcare programs.