Sacked minister offers economic rescue plan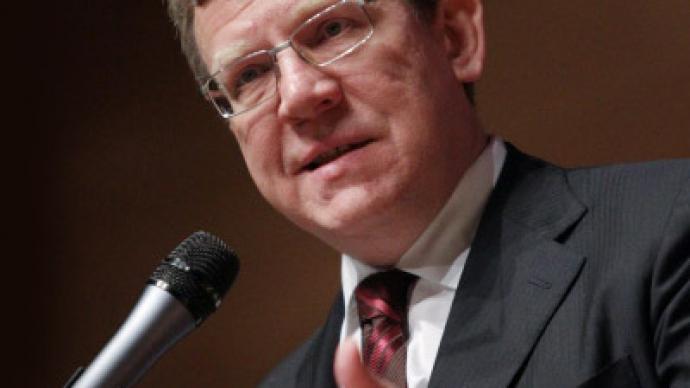 Ex Finance Minister Aleksey Kudrin, fired recently for criticism of the leadership's economic policies, has proposed a five-point plan that would help Russia to avoid a second wave of the Global Financial Crisis.
In an article published on Tuesday in Kommersant business daily, Kudrin, writes that a complex combination of internal political motives and the still relatively-favorable foreign economic situation tempts the Russian government to pursue a risky economic policy. "[The government], however, does have the necessary instruments to correct this course. All it needs is to define its priorities. But there is almost no time left for doing this," the fiscal hawk says.He agrees that increasing salaries and pensions, upgrading the army and modernizing industry "are absolutely the right tasks" for a responsible government. Nevertheless, currently there are no conditions for these problems to be addressed all at the same time.First of all, Kudrin suggests, the government should aim for a deficit-free balanced federal budget for 2015 at an average price of $90 per barrel of oil. Secondly, it is necessary to determine the rule of spending gas and oil revenues since it influences a whole range of factors, including inflation and the currency exchange rate, and is also very important for investors. This rule must be cemented into the Budget Code and the government must not deviate from it, no matter what important tasks they face.A third step, Kudrin believes, is reconsidering of military spending. The previously set goal of rearmament can be achieved in 15 years rather than 10. In addition, the government should not immediately double military allowances, but increase them gradually, while at the same time optimizing the number of the personnel.Fourthly, as soon as next year, the Russian authorities should come up with a strategy for social and pension insurances. Kudrin did not rule out that it might be necessary to limit pension increase to inflation rate until the Pension Fund deficit is eliminated. The fifth, and final point of his action-plan, is setting a goal to reduce the budget burden on the GDP. That means expense cuts and refraining from increasing taxes. It is also necessary to maintain a low inflation rate, aiming at bringing it down to 4-5 per cent in 2014 and then to 3 per cent.Former Finance Minister, Deputy PM Kudrin was sacked last month after a row with President Dmitry Medvedev. Also striped of all his official positions in government bodies and international organizations in which he represented Russia, he has continued to be critical of the government.