Georgian opposition plans to topple Saakashvili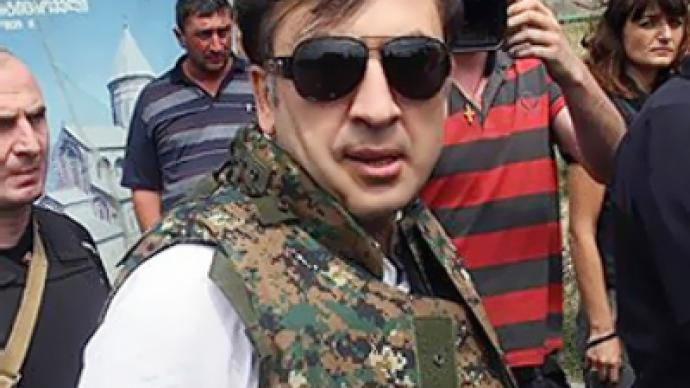 The Georgian opposition has set up around a dozen protest groups designed to prepare demonstrations against the rule of President Mikhail Saakashvili.
The groups were set up within the space of a day. Organizers say their goal is to persuade people to show their disagreements with the country's leader more openly. They believe if the planned protests are organized properly, the authorities won't be able to disperse them as brutally as they did back in November 2007.
In November 2007, Georgian authorities used force to disperse a demonstration of thousands of anti-government protesters, who were calling for Saakashvili to resign. That evolved into clashes in the streets of Tbilisi. On November 8, Saakashvili stepped down, and called for early presidential elections. In the vote on January 5, he was declared the winner with 53.4% of the votes amid accusations of electoral fraud by the Georgian opposition
Kakha Shartava, one of the organizers of the preparations and the head of the opposition union 'National Forum' said:
"Our ultimate goal is to remove Saakashvili from power. Each day of his presidency promises Georgia new disasters".
Saakashvili says he's not going anywhere and intends to finish his term, which expires in four years.
According to the latest opinion polls, the president's approval rating is drastically falling. Immediately after August war in South Ossetia, Saakashvili claimed the support of 76% of Georgians, but in December it was around 11% in some surveys.
The opposition blames him for dragging the country into a crisis because of his actions in the August conflict, when he attacked Georgia's then breakaway republic South Ossetia in order to bring it under Tbilisi's control. They are also angry at his inability to tackle the dire economic situation in the country.
The leader of the party "Democratic Movement – United Georgia", Nino Burdzhanadze, says Saakashvili's actions in the August conflict must be thoroughly investigated, even though she claims her criticism towards the president doesn't justify Moscow's military response.
Burdzhanadze calls for early presidential elections, and insists the only way to topple the president is a mass public protest.
"The only way to make the president step down is to show the force of society… Other means would keep him in power until 2013, " she said.
Burdzhanadze also referred to mechanisms the authorities used to win the elections last year, and warned that a referendum or snap parliamentary elections would turn the "vote into the same farce as in 2008".
Burdzhanadze, who's considered a top presidential contender, is Saakashvili's one-time ally. She headed the Georgian parliament until June 2008. In October last year, she set up what she described as a 'clear-cut opposition' party.
She is not the only former Saakashvili ally to become his foe. Over the last three years a number of Georgian officials have resigned and become leaders of their opposition movements. The most recent and 'promising' departure, in some people's eyes, was by Georgia's former envoy to the UN, Irakly Alasania.
In September last year he was meticulously defending the position of his leadership in the August conflict, but this Monday Alasania presented his new opposition team, which is hoping to topple Saakashvili.
He said: "The policies of today's leadership have brought us to the events of November 2007 and August last year, and that raises questions about the political responsibility of President Saakashvili".
Georgia's former prime minister, Zurab Nogaideli, who's now heading opposition party "For Just Georgia", is also criticizing his former ally's policies, saying the war in South Ossetia is the main reason behind the country's economic troubles.
"In the first half of 2008 Georgia was receiving almost $1 bln in foreign investment. In the second half of 2008 that came down to zero," he said.
But analysts believe that no matter how united all Georgia's opposition parties are in their desire to see Saakashvili resign, they are not yet able to act as one.
Some say it's due to the opposition's inability to join forces that Saakashvili's United National Movement party won the majority in parliamentary elections last May.
Nino Burdzhanadze calls on opposition leaders to unite in their efforts no matter what their political past, at least for the sake of toppling Saakashvili. Afterwards, she says, she doesn't see the need to retain these political alliances.
For now, almost all opposition leaders want to galvanize mass protests against the current government. But it's still not clear whose name the crowds would be chanting for instead.
Gayane Chichakyan, RT
You can share this story on social media: