Georgian media boss' French asylum bombshell
Published time: 6 Oct, 2011 12:43
Edited time: 6 Oct, 2011 16:43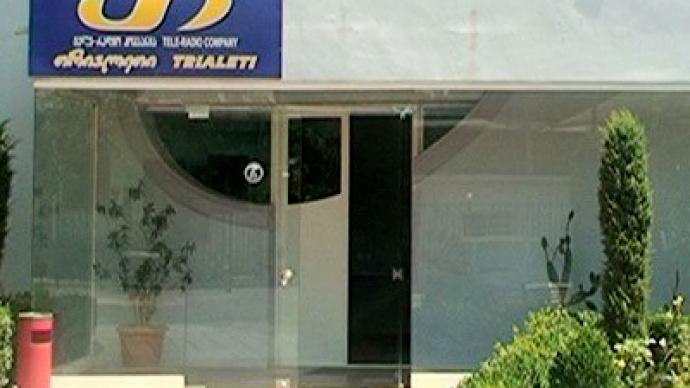 Ahead of the French president's official visit to Georgia on Friday, director and founder of the Georgian television and radio company Trialeti, Jondo Nanetashvili, has called on Nicolas Sarkozy to grant him political asylum.
­"The reason for this decision is the pressure from the Georgian authorities both on the company and my family," Nanetashvili told the News-Georgia agency on Thursday. He added that he will pass his request to the French Embassy by the end of the day.

Trialeti is a regional company broadcasting from Gori in the country's east. Its audience is estimated at 450,000 people. Launched in 1990, Trialeti became one of the first independent channels in Georgia.

The media manager said that he is being forced to sell Trialeti as the authorities are unhappy with the editorial policies "based on freedom of expression."

"The pressure is linked to Trialeti's reports and features," Nanetashvili stressed. He also said he has no other way out because of the security of his family.

The crackdown on opposition media have been continuing all through the presidency of Mikhail Saakashvili. To the extent that this January human rights activists organized a rally – or rather a mock funeral – of "free Georgian media".

And it is not the first time a Georgian national has asked for political asylum. In May 2009, navy Lieutenant Alik Bzhania defected to Russia. He said then that there were all signs in the army that President Mikhail Saakashvili was preparing for a new war with Moscow following the 2008 conflict in South Ossetia.

Six months later, in October 2009, opposition journalist Levan Gudadze also fled Georgia for Russia. He claimed he had been threatened after publishing an article in which he accused Saakashvili of starting the South Ossetian war. In December of the same year, Manana Archvadze-Gamsakhurdia, widow of the first Georgian President Zviad Gamsakhurdia, formally appealed to German Chancellor Angela Merkel for political asylum.

More recently, this June the husband of popular Georgian opposition leader Nino Burdzhanadze, Badri Bitsadze, had to escape to Europe as the authorities accused him of staging an attack on the police during the dispersal of a major opposition rally in the Georgian capital on May 26.

Bitsadze, who had previously served as the country's former top military prosecutor as well as the head of the national border guard service, was tried in absentia and sentenced to five-and-a-half years in jail.