NATO will use Gaddafi arrest warrant as excuse to intensify military operations – envoy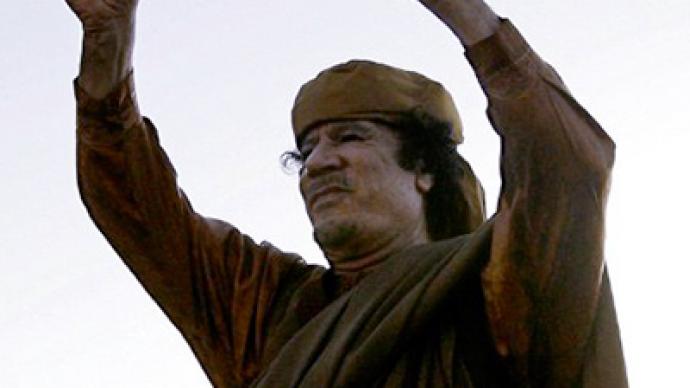 The International Criminal Court's arrest warrant for Muammar Gaddafi will serve as an excuse for increased NATO military operation in Libya, Russia's permanent representative to the alliance Dmitry Rogozin has said.
On Monday, Pre-Trial Chamber I of the Hague-based court issued an arrest warrant for Colonel Gaddafi as well as his son Saif Al-Islam Gaddafi and the Libyan intelligence chief Abdullah Al-Senussi.Their crimes against humanity were allegedly committed across the North African state in the first days of the uprising, from February 15 to February 28 of this year.Commenting on the matter to Echo Moskvy radio station, Dmitry Rogozin said that if a decision on Gaddafi's fate outside of Libya is made and accepted by the Colonel, "he will be able to leave his country since there are quite a few states that did not ratify the [Rome Statute of the ICC]" and therefore, the court's rulings are not binding for them. Russia's envoy to NATO believes that Monday's ruling will serve as an excuse for military operations against Gaddafi and his supporters. The issue of the warrant will result in more bombings of Tripoli as "now the coalition will be sort of fighting against a criminal who committed war crimes" and in this case – anything goes. Konstantin Kosachev, the head of the State Duma Foreign Affairs Committee, expressed doubts that the move will be an effective way accomplishing the main task – making Gaddafi voluntarily step down. On the contrary, it is likely that the arrest warrant will significantly retard the process. In an interview with Interfax, the official also noted that the ICC decision, "based on images broadcast by the Western media", was predictable.The parliamentarian observed that Libya is not an ICC member and the courts' decisions do not apply to the state as long at the Colonel is on its territory. "This decision also does not impose any additional obligations on other states, including Russia, that are not party to the court," the MP pointed out. The Russian president's special envoy in Africa, Mikhail Margelov – who has recently returned after visiting the conflict-torn country on a peace mission – believes that the issue of the arrest warrant does not rule out the possibility of finding a political solution to the problem. However, he noted that while time is not on Gaddafi's side, it will get increasingly difficult for the international community to suggest new ways of overcoming the crisis. "At the same time, Gaddafi and his supporters will have fewer options for organizing their future," he added.
You can share this story on social media: