Libyan teen tries to take own life to escape NATO bombs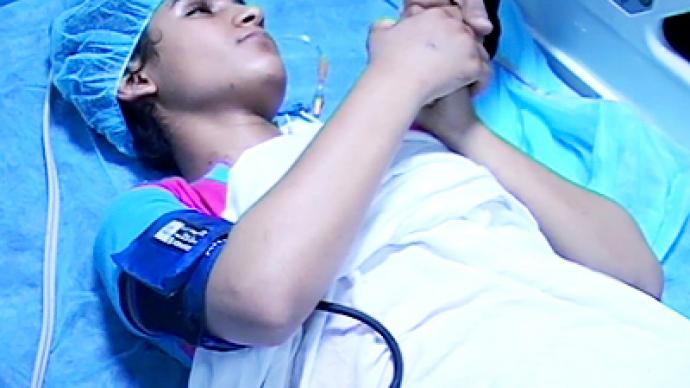 The conflict in Libya has no end in sight, as NATO intensifies airstrikes and increases what it calls "efforts to protect people." It is those "efforts" that made a Libyan teenager choose death over life in a war-torn country.
NATO has frequently claimed success in the military operation supposed to "protect civilians". But the Libyan government has repeatedly protested that innocent civilians have been among the dead. Gaddafi's government claims more civilian deaths have been caused by coalition aggression – over 30 this week alone.The claims have not been independently verified, but one thing is clear – since March 19 the life of ordinary Libyans has changed forever.Salma Abubaker Shtoot has been within a hair's breadth of death. But doctors have performed a near-miracle and the young girl is back home with her family.The 13-year-old took her mother's pills to kill herself.She says: "If someone wants to kill me – I'd better do it myself."But who wants to kill the teenager?Salma's native city, Tripoli, has been under constant bombardment by NATO forces for three months. One of NATO's bombs, supposed to target Gaddafi's military arsenal, actually landed in the district where her family lives. It did not destroy the colonel's compound but it almost wiped out a family. Day and night, bombs have been falling on the city with a population of around a million. No- one can ever say when or where the next one will land. This week, in the most intensive air raid yet, there have been 60 NATO airstrikes in just ten hours. Salma's mother, Rahima Suan, will never forget the day when her daughter preferred death to this new way of life."My girl told me before that she thought death is a good thing. When I entered her room that day, she was lying on the floor. There was smoke everywhere, I could hardly see what happened but I realized immediately – something terrible happened. … This is not fair. They told us they want a no-fly zone, they never said they were going to bomb us. They promised to protect us, but instead they scare us," she said.Abubaker Ibrahim Shtoot is more precise when talking about who "they" are."The world no longer needs NATO!" he said. "The Second World War was over a long time ago, and we try to live our lives, while NATO always do wars and always intervene in other countries' issues. We are tired of wars, our patience is running out. Let us just live our life." NATO has just prolonged its operation in Libya until September and for the people in Tripoli it means months more terror from the skies.
You can share this story on social media: