NATO acknowledges civilian casualties in Libya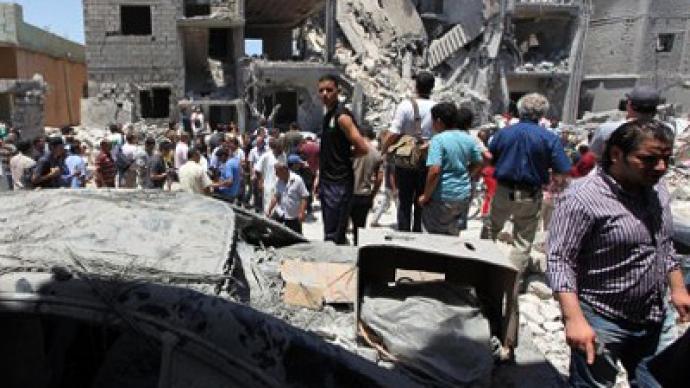 NATO has admitted its forces killed up to nine civilians in a bungled airstrike on a poor neighborhood in Tripoli. The Libyan Health Ministry's announcement that the intervention has left over 800 civilians dead has fueled Libyans' anger.
Warning: You may find some of the images disturbing.Muhamed Al Grari's extended family used to be one of the biggest in the neighborhood. A NATO bombing killed five of them: his father, one of his brothers, a sister and her whole family. "I woke up when I heard an explosion. Some stones, a piece of the roof fell on me, I ran immediately to see how my family was, and many were dead. My mother survived, another brother is in a coma and we do not know when or if he will recover," says Muhamed Al Grari.Al Grari's house was one of the two three-story buildings reduced to ruins by a missile strike. The Al Grari's are not rich, they have been living in the Soug Al Jeema district in Tripoli. It is home to many average-income people. Omar Al Grari, Muhamed's brother who survived, says they will never forgive or forget what NATO has done to them, destroying their lives and homes."They should take responsibility for their wrongdoing," says Omar Al Grari.NATO has responded with an apology:"The intended target during last night's airstrike in Tripoli was a military missile site. However, from our initial assessment of the facts, it appears that one weapon did not strike the intended target due to a weapons systems failure," declared NATO's spokesman Mike Bracken at a Sunday press-briefing in Italy.Although officials in Tripoli claim more than 800 civilians have died in NATO raids, the nine people killed in Sunday's bombardment of the city have become the first civilian causalities officially acknowledged by the alliance."We hold NATO, we hold Mr. Cameron, Mr. Sarkozi, Mr. Berlusconi, Mr. Obama morally and legally responsible for the deaths of these innocent children, innocent boys and girls, and innocent fathers and mothers. You cannot justify this attack with anything. This is not the protection of civilians," said Libyan Government Spokesman Moussa Ibrahim. Only on Saturday NATO admitted another failed airstrike: that time on rebel forces near the Libyan oil port of Brega, with the number of casualties not being disclosed. The fatal errors are occurring amid rising concerns within NATO about its operation in Northern Africa. Only eight out of its 28 member-states have joined the mission "to protect civilians" in Libya, which raises the question as to how many would support one to kill those same civilians.
You can share this story on social media: