Russian elections monitor fined for failing to report foreign funding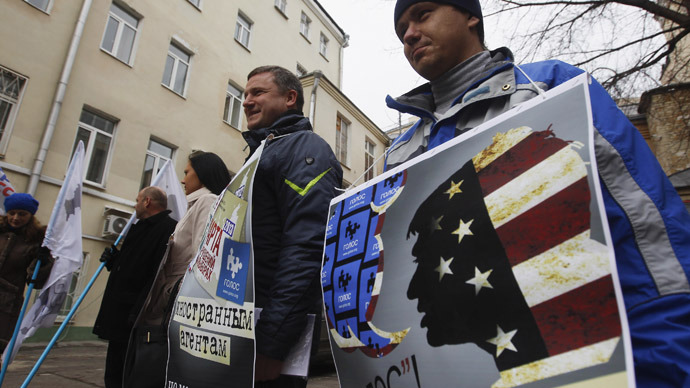 A Moscow magistrate has fined the GOLOS association of election monitors and its executive director after establishing the NGO had received foreign funding but failed to register as a foreign agent as required by a recently introduced law.
GOLOS will have to pay a 300,000 roubles fine and its executive director Liliya Shibanova was ordered to pay a 100,000 roubles fine (about $10,000 and $3,300 respectively).
The magistrate ruled that the association had violated the law on foreign agents that demands that all NGOs engaged in political activities register as foreign agents if they receive any sponsorship from abroad. According to law enforcers, the group received money from abroad in 2012.
The representatives of the NGO denied all the accusations saying that they did receive the Sakharov award from Norway's Helsinki Committee, but refused to accept its monetary part and sent back the money that was mistakenly transferred to their accounts. The activists also claim that their group has never been engaged in any political activities and investigators simply mixed them with another organization with a very similar name – the Regional Public Organization GOLOS.
The activists promised to appeal the court ruling and told the press that after the law on foreign agents came into force their group completely refused from any foreign money.
GOLOS specializes in the organization of elections monitoring and follow the alleged violations at elections of all levels. The group also analyses the poll results.
It was also one of the first Russian NGOs to have legal cases brought against them following a major audit of all Russian groups that started in the end of March. According to President Putin, the checks have already discovered various Russian organizations received almost $1 billion from foreign sponsors in just four months after the law on foreign agents came into force.
Earlier, GOLOS representatives admitted that they had received substantial funding from the United States Agency for International Development, but they claimed that this happened before the law on foreign agents was introduced.
The approval of the foreign agents law and the following audit of Russian NGOs have drawn some concerned comments from foreign governments and international non-government agencies.
Russian officials, including President Vladimir Putin, have repeatedly explained that the law does not order the closure of any organizations but simply calls for greater transparency as the Russian people have the right to know the sources of income of those who try to influence their lives through NGO political activities.