Russia will not tolerate foreign pressure – Putin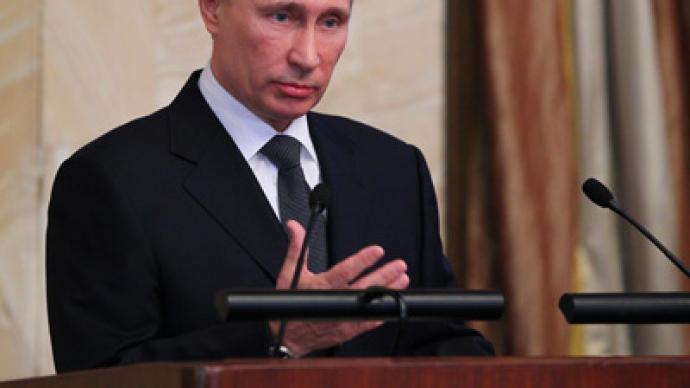 Russian President Putin has defended the right of citizens to express their views and organize political parties, but drew the line at those that receive their funding from abroad.
­"The constitutional right of citizens to the freedom of speech is inviolable and unshakeable," Putin declared at an expanded session of the Federal Security Service (FSB) on Thursday. "However, nobody has a right to sow hatred and rock society and the country, thus jeopardizing the life, wellbeing and peace of millions of our citizens."
The Russian leader mentioned the recent restrictions that were placed on nongovernmental organizations (NGOs) that work on specific projects in Russia, yet receive their funding from abroad. Nobody has a right to speak on behalf of the entire country, especially those groups and structures that rely on foreign funding for their existence, Putin said.
In September, Russia ordered the closure of USAID, which had been operating in Russia since the collapse of the Soviet Union, after it was discovered that the organization was providing funds for NGOs that seek to "influence the political process, including elections at various levels and civil society."
The United States denied that USAID's programs were aimed at interfering in Russia's internal affairs.
In July, Putin signed legislation requiring NGOs that receive funding from abroad to register as 'foreign agents.' The law requires that Russian-based NGOs show how their funding from abroad is being spent in Russia.
However, the President noted during the meeting that individuals and groups that use such structures to express their views on social development and organize new political parties "will be supported by the state."
President Putin, noting the direct connection between extremist and terrorist groups, also discussed the importance of "preventing people, the youth from being dragged into terrorist groups and militant gangs," and disrupting their means of disseminating their messages.
"We should act resolutely to break up the different types of extremist structures, and thwart the attempts of extremists to use the capabilities of modern information technologies, Internet resources and social networks for their propaganda," the Russian leader stressed.
However, these "well-planned special operations" must be implemented with "perfectly legal and juridical transparency," Putin said.
The Russian leader then drew attention to what he described as the need to develop a uniform system "as promptly as possible" that will be able to "detect, prevent and repel" computer attacks against Russia's information resources.
Putin's comments then moved to the issue of employing anti-terrorism safeguards at "industrial facilities, transportation and energy-producing facilities." This is significant, he explained, especially as Russia prepares to play host to a number of international events, including the Sochi Winter Olympics in 2014.  
Putin then forewarned the high-ranking security officers of likely outside efforts to impede the integration processes in the post-Soviet space. "We might be faced – and are being faced – with attempts to slow down integration work, for which ends various instruments or pressure might be used, including the so-called mechanisms of soft power," he said.
The Russian leader, declaring that it is the "sovereign right of Russia and our partners" to build and develop integration projects, emphasized the need for close contact with Russia's partners in Belarus, Kazakhstan and other countries that are participating in the integration process, recalling recent "emotional rhetoric" surrounding the issue.
In December, former US Secretary of State Hillary Clinton explained Russia's efforts to promote greater integration in the Commonwealth of Independent States (CIS) as a "move to re-Sovietize the region."
"It's not going to be called that," Clinton said. "It's going to be called a customs union, it will be called the Eurasian Union and all of that. But let's make no mistake about it. We know what the goal is and we are trying to figure out effective ways to slow it down or prevent it."
"Close integration is an objective and general process and it cannot be stopped by any peremptory shouts or cries," Putin said.
He concluded his remarks by saying that Russian counterintelligence services had identified nearly 200 agents of foreign special services in 2012: "Operations conducted by our counterintelligence services last year prevented activities of 34 career intelligence officers and 181 agents of foreign special services last year. Twelve of them were caught red-handed."
Robert Bridge, RT