Duma passes tougher punishment for hoax terrorist attack calls
Published time: 15 Apr, 2014 14:16
Edited time: 15 Apr, 2014 15:03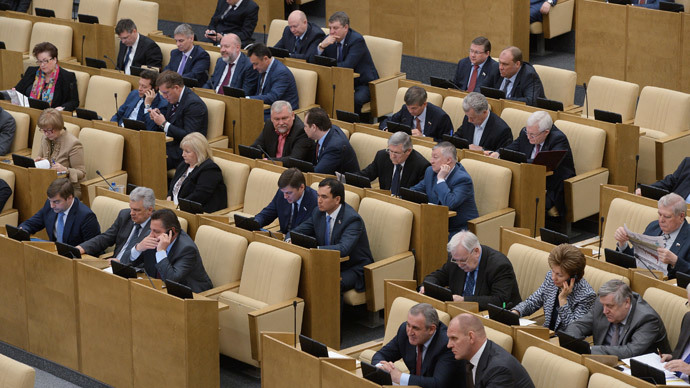 The Russian lower house has voted to increase the punishment for false alarms of terrorist attacks to 5 years behind bars, if they cause material damage or were made by persons previously convicted of the same crime.
The bill on toughening the laws against knowingly distributing false reports about terrorism was submitted to the parliament in late January this year by the government after police complained that the number of incidents was constantly growing and the number punished remained almost the same year-on-year.
According to the Interior Ministry that prepared the bill in the parliament, Russian police registered over 1,300 hoax calls of possible terrorist attacks in 2009. In 2010 the number of reports increased to 1,600, in 2011 – to 2,100, in 2012 – to 2,400. In the first 11 months of 2013 the number of registered false calls reached 2,245.
At the same time, the number of people who were apprehended, convicted and sentenced over hoaxes is much lower, the Interior Ministry said. In 2010 the number convicted was 437, with 70 people receiving prison sentences, in 2011 the figures were 595 and 75 and in 2012 – 475 and 53.
Russian law requires criminal prosecution for false reporting of terrorist attacks or preparations. The punishment varies from fines of up to 200,000 rubles (about $5500),or up to three years in a penal colony.
The fresh bill adds a new article to the same law introducing tougher punishment if the hoax causes material damage over 1 million rubles (about $27,700). Another aggravating condition is repeated crimes and also mentioning a place where a lot of people gather or potentially dangerous objects as well as the sites that are of critical importance to the country.
The maximum fine in these cases is raised to 1 million rubles and the maximum term of imprisonment to five years.
Last year Russia introduced another law in the fight against terrorism in which the relatives of terrorists will have to pay for damages caused by their attacks. In addition the authorities boosted penalties for launching, participating, or financing militant or terrorist groups.