Dozens of "revolutionaries" reportedly detained in Belarus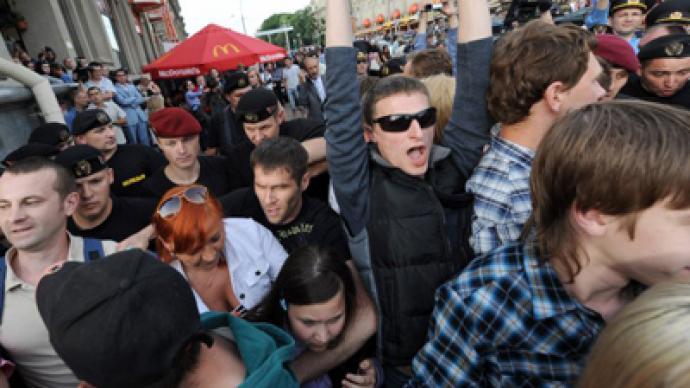 According to Belarusian human rights activists, dozens of people have been detained during non-sanctioned rallies in the capital Minsk and other cities across the country affected by the economic crisis.
A series of mass protests in support of political and economic changes took place on Wednesday in Belarus. They were organized through the internet as part of the action called "Revolution through Social Networks". The rallies were non-conventional, without opposition symbols and anti-government slogans, and were also dubbed "silent protests" so that participants could not be charged with organizing an unsanctioned rally. However, the demands of the participants are clear even without slogans – political and economic changes.The Minsk demonstration gathered the most protestors. Belarusian media say an estimated 1,000 people were involved in it. According to the Interior Ministry, around 500 people participated in the rally, of whom 15 were detained and later released without an offense recorded. Belarus opposition website Charter97.org wrote that ahead of the rallies Minsk riot police cordoned off the city center. The human rights center Vesna (Spring) says though that at least 20 people were detained in Minsk, two in Brest, more than 20 in Vitebsk and 22 in Grodno. The organization also reported detentions in Gomel, Mogilyov, Borisov and several other cities. They add that only some of those detained have been released, while other will have to face trial. Local media reported that among those detained was a Polish journalist, Agnieszka Lichnerowicz, and Polish television cameraman Boris Chernyavski. They were released after their identities were established.In March this year, Belarusian authorities devaluated the national currency, the Belarusian ruble, by 10 per cent in an attempt to save decreasing gold holdings. The current economic crisis, resulting in a price surge, has significantly affected living standards in the country.