Opposition journalist escapes Belarus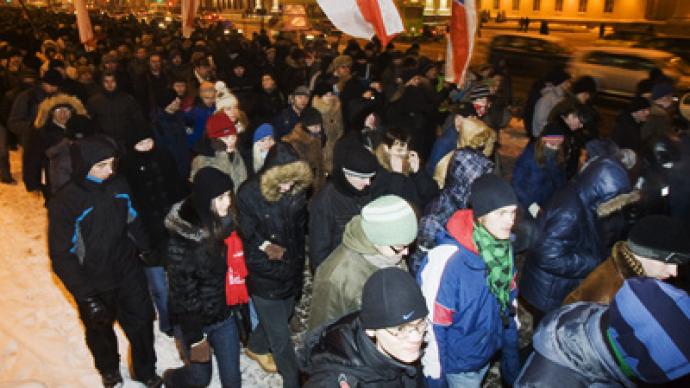 Journalist Natalia Radina, who is the chief editor of the opposition Charter97.org website, has fled Belarus, ahead of questioning by the KGB over mass disorder charges.
The online edition has reported that she is now safe "out of the reach of Belarus' KGB".The journalist is charged with organizing mass disorder on December 19 in Minsk which followed the presidential election. She spent around a month in custody and then was released under a written pledge not to leave the country. For the next two months Radina remained in the city of Kobrin in the east of Belarus.On March 31, she had to show up for questioning at the KGB (State Security Committee) office in the capital Minsk. Charter97.org says she expected the final charges to be brought against her and decided to leave the country where she was facing up to 15 years in prison. According to the website, the details of her escape will be made public later.Russian Gazeta.ru newspaper cites unconfirmed reports that on Thursday night an announcement about Radina holding a London news conference at 10am local time appeared in Belarus' social networks.On March 31, chief editors of major opposition media were reportedly questioned in the KGB headquarters and were obliged to sign non-disclosure documents.Last December's riots broke out after it was announced that President Aleksandr Lukashenko won the election by a landslide. Protestors stormed the government HQ demanding the revision of the "falsified" results. Police detained or arrested more than 600 people, both participants of the rally and passers-by. Most of them were sentenced to administrative arrests, fines, or both.The authorities also started a criminal case into the December riots, bringing charges against several dozen people, including six opposition presidential candidates and journalists. In January 2011, the international rights watchdog Amnesty International recognized the detained individuals as prisoners of conscience.A crackdown on opposition media followed, with several offices searched and their employees questioned by the security services. Last month, one of last year's presidential candidates, Ales Mikhalevich, fled the country and was granted political asylum in the Czech Republic.
You can share this story on social media: