Foreign Agents law demands financial control, not NGO closure – Putin in Hannover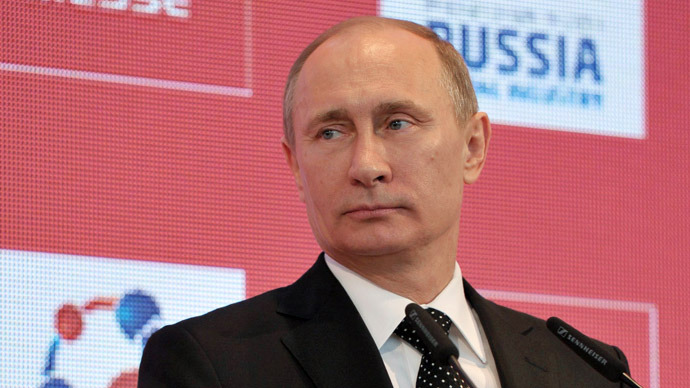 Russia's president allayed concerns of German officials and mass media, saying the new law on NGO activities - and mass audit to enforce it - only sought to introduce control over cash flow, not the political activities of foreign-sponsored groups.
"All our actions are connected not with the closures of these organizations, not with the ban, but with putting the cash flow under control," Vladimir Putin said at a Monday press conference in Hannover. "The freedom of NGOs is not limited in any way, they just have to register."
Putin recapped the main points of his Friday interview with the German broadcaster ARD and said that a great amount of resources was sent from abroad to affect Russia's internal politics. He also again reminded that the sum of foreign aid to Russian-based political NGOs exceeded 28 billion rubles (over US$940 million) in just four months.
"This cannot be left without questions," Putin noted.
He said that the equal amount of money could be used to solve the recent financial problems of Cyprus.
"They could have forwarded these significant sums to help Cyprus so that there was no need to rip off the poor bank clients," Putin told reporters. He reminded the press that Russian authorities had ordered the restructuring of the 2.5-billion-euro Cypriot debt to Russia, thus making an input to the solution of the financial crisis.
The issue of mass audit of Russian NGOs is currently one of the most urgent questions in relations between Russia and Western countries. The Russian Justice Ministry, Prosecutor General's Office and Tax Police began checks in various NGOs in late March and continue them to this moment.
Many civil groups claimed the inspections were a form of pressure, but the law enforcers said they were only bringing the situation into line with the recently-approved Law on Foreign Agents.
The law demands that any organization that receives funds from abroad is registered as a foreign agent. Law enforcers must hold random checks of the law's proper application, and NGOs that fail to do so must be fined and even closed (in case of repetitive offence).
Supporters of the law have repeatedly claimed that its sole objective is to keep the Russian public informed of certain groups' sources of funding, which could shed light on the true sidings and objectives of these groups.
The advocates, including President Putin, also point out that similar laws exist in other countries, like the US Foreign Agents Act that was introduced in 1938, but is still in force, and Russian-sponsored groups still receive letters from US counter-espionage services demanding full reports on their activities.
When Vladimir Putin spoke of the situation with the Russian Foreign Agents Law in his interview with ARD, he also noted a huge disproportion in the number of foreign NGOs in Russia and Russian NGOs abroad. He pointed out that there were 654 foreign-funded groups operating in Russia, while Russia sponsored only two foreign NGOs – one in France and one in the United States.