Russia's NGO checks 'legal and routine' – Putin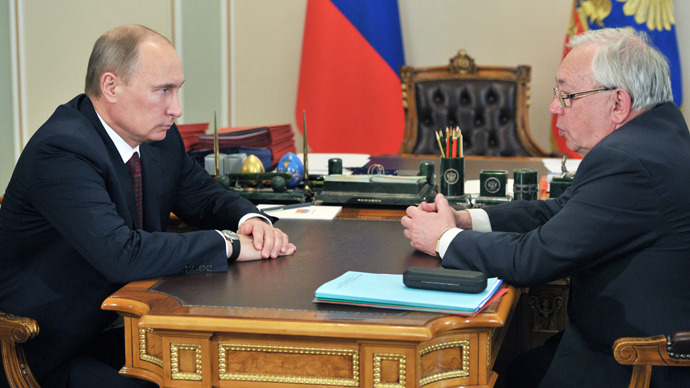 Recent inspections of Russian NGOs were conducted in order to monitor their activity, and to ensure they comply with Russian law, President Vladimir Putin said at the meeting with his human rights plenipotentiary.
"The Prosecutor General's Office must check the legality of actions of all bodies of power – regional, municipal, and also public organizations. I think in this case the goal of the inspections is to check how the activities of non-governmental organizations comply with their declared objectives, and with the laws of Russian Federation," Putin said during his meeting with Vladimir Lukin, Russia's top Human Rights Commissioner.
The meeting took place as Russian prosecutors, the Justice Ministry and the Tax Service launched a series of surprise inspections of the country's major NGOs, including leading Russian organizations and the Russian branches of international groups such as Amnesty International and Human Rights Watch.
The international rights community sounded the alarm, blasting the checks as an attempt to pressure activists and silence critics. Germany, France and the United States officially voiced concern over the probes.
During his meeting with Lukin, President Putin tasked the commissioner with monitoring the ongoing situation: "I would like to rule out any excesses there."
The Russian Justice Ministry issued a statement on Monday announcing that the NGO inspections were routine and within legal norms: Law enforcement was working under the recently introduced Law on Foreign Agents, which requires all groups with foreign workers or funding to register on a special list and publicly announce their "foreign agent" status.
The Prosecutor General's Office said on Thursday that their probes into NGO work were part of an attempt to verify reports that several banned extremist and ultranationalist organizations had attempted to re-register under new names and resume their activities.
The Russian Foreign Ministry said on Friday that regular inspections of such organizations was a generally accepted international practice, and that all groups working in Russia must observe Russian law and report their activities to the authorities.
So far, the auditors have reported no violations in the activities of non-governmental groups, apart from one incident. On Thursday, 'For Human Rights' leader Lev Ponomaryov refused to turn over working documents to inspectors, saying that his organization had already been subjected to a recent check. Law enforcers said the move was a refusal to comply with their lawful demands, and started an administrative case against the activist.
You can share this story on social media: