'Foreign agents' law has errors, must be altered – top HR group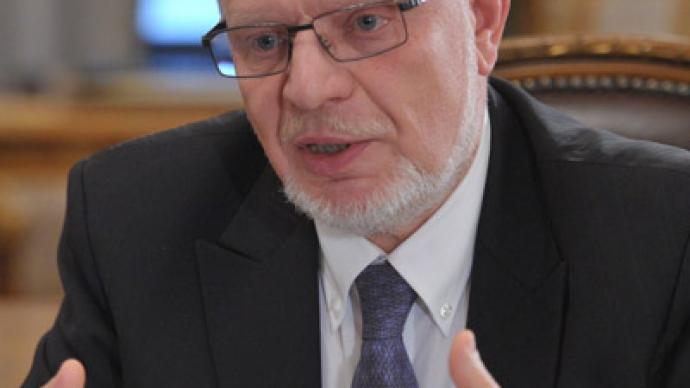 The controversial law labeling politically-active NGOs funded from abroad as 'foreign agents' contains mistakes and must be amended, says the head of Russian Presidential Council for Human Rights.
The council will work out amendments to the law, which came into effect on Tuesday, as a priority, the council's head Mikhail Fedotov told Interfax agency.
The law on organizations acting as a foreign agent does not specify what these functions actually are, the rights advocate pointed out.
"This is one of the lawmakers' obvious errors," Fedotov added.
The 'foreign agents' law was approved by both chambers of the parliament and signed by President Vladimir Putin.
It obliges externally-funded non-profit organizations engaged in political activity to register with the Justice Ministry as "foreign agents." Such NGOs also have to file a financial report to officials every quarter and an audit report – once a year. Violations will be punishable by a fine ranging from 300,000 to 500,000 roubles ($15,700).
The move triggered a wave of criticism from rights activists. They fear tightening screws would lead to a lack of funding for HR organizations and, therefore, be harmful for the development of democracy and civil society in the country.
The authors of the law maintained that Russian citizens have a right to know who is attempting to influence their opinion and that other countries, in particular the US, have had similar laws for years.
Putin stressed that everything that is not related to politics should in no way be subject to regulation by this law. The only purpose of the bill is to prevent organizations representing other states from interfering in Russia's internal affairs, he underlined.
However, several leading Russian rights groups – including the Moscow Helsinki Group, Memorial, Golos (Voice) and the organization For Human Rights – are due to boycott the law and refuse to register as foreign agents. They plan to uphold their rights in court.
Western grants are necessary for rights organizations, since the Russian government and businesses in the country don't sponsor them, said Russian veteran rights activist Lyudmila Alekseeva, the head of Moscow Helsinki Group.
"I do not know a single human rights organization, which has appealed for being registered as a "foreign agent". We are not "foreign agents". We cannot call ourselves so," Interfax quoted her as saying. The Moscow Helsinki Group would only stop accepting foreign funding and try to find financing in the home country if a court obliges them to do so. But even such a decision would be appealed in European Court of Human Rights, Alekseeva pointed out.
State Duma Speaker Sergey Naryshkin criticized the rights activists and stressed that "the law has been adopted and needs to be observed."