Communist MPs call for probe into Russia's former Defense Minister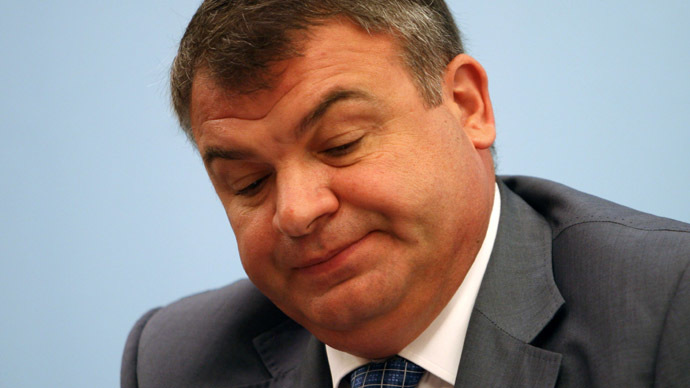 The Duma's Communist faction is calling for a parliamentary investigation into alleged misdeeds by former Defense Minister Anatoly Serdyukov, who was dismissed after a large embezzlement scandal hit his ministry. So far, he has only faced minor charges.
Serdyukov is currently facing charges of negligence. Prosecutors accuse him of having wasted government funds on building a road to a privately owned resort in southern Russia's Astrakhan Region. The work carried out by conscript soldiers cost the federal budget 56 million rubles ($1.7 million).
The case is a minor episode compared to multi-million-dollar corruption schemes, allegedly carried out by the property-managing branch of the Defense Ministry, Oboronservis.
Communist MPs apparently unsatisfied with the minor charges Serdyukov is facing have urged a closer look at the high-profile Oboronservis fraud case and Serdyukov's possible role in it.
"The Communist faction is initiating a parliamentary probe into the activity of the former Defense Minister Serdyukov and is calling for creating a special commission for that purpose," said Anatoly Lokot, deputy leader of the Communists' parliamentary faction, during Tuesday's Duma session.
Lokot said he was sure the faction would get its initiative endorsed by 90 MPs, a condition necessary for launching a parliamentary probe.
Earlier the Investigative Committee announced that charges against Serdyukov could be expanded, but that has not yet happened.
He has refused so far to answer questions put by the Investigative Committee, invoking his right not to testify against himself and protesting his innocence.
Serdyukov, fired by President Vladimir Putin a year ago, has recently been placed in charge of the Federal Research and Testing Center for Machine-Building – a structure belonging to the state-owned hi-tech corporation Rostec.
Russian bloggers, who visited the institution situated at the outskirts of Moscow and currently in decline, said the new boss had only been there a couple of times during his first two weeks in office.
Serdyukov might meanwhile escape any kind of penalty, as he appears to be subject to amnesty, according to a new bill, the Duma passed in the first reading on Tuesday. The amnesty is in celebration of the 20th anniversary of the Russian constitution.
You can share this story on social media: