Integration of post-Soviet space worth the expense - Putin
Published time: 1 Jun, 2011 12:27
Edited time: 1 Jun, 2011 17:04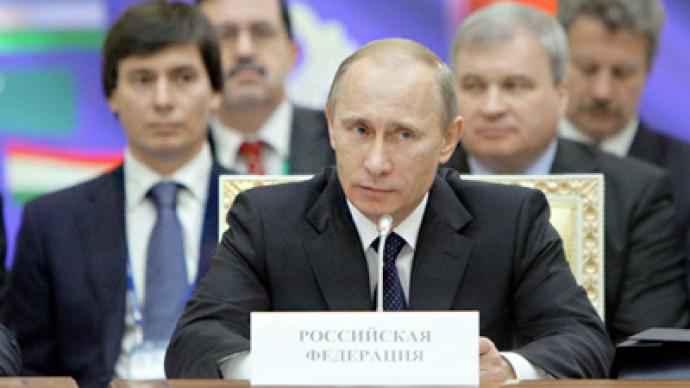 Russia's expenses related to integration processes on the territory of the Commonwealth of Independent States (CIS) are justified, believes Prime Minister Vladimir Putin.
­In an interview with "VIP-Premier" magazine, the head of the Russian government said that it is wrong to consider Russia's CIS policy as "a burden" or "economic costs". He agreed that the integration processes do require financial input from all the participants and its size depends on the "economic weight of a state". However, these expenses are justified.
After all, he noted, "all of us are interested" in having friendly, stable and dynamically developing states across the state borders. "Relations with our CIS partners will remain an absolute priority in Russia's foreign policy," Putin stressed.
This year marks the 20th anniversary since the creation of the commonwealth. The unity "has played an important historic role in maintaining geopolitical stability, building up relations between the sovereign states, which are united not only by common past and close relations between peoples, but also by economic infrastructure," Putin observed.

He noted that in recent years new formats of co-operation have been developed between former Soviet republics. Those include the creation of the Collective Security Treaty Organization (CSTO), Eurasian Economic Community, and Customs Union between Russia, Belarus and Kazakhstan. The single economic space that is being formed on the union's territory is a vivid example "of a new qualitative level of partners' relations" which was reached thanks to permanent development of co-operation.

"I am confident that the single economic space will not only bring considerable financial dividends and appreciably strengthen our ties, but will also attract new participants," Putin emphasized.

According to the prime minister, such a scenario of relationship development is natural. The CIS member states are sources of investments, innovations, labor and intellectual resources for each other. "And I think it is a valuable competitive advantage," Putin said.

By merging together markets, natural, technological and humanitarian potentials and efficiently using transport communications, "we will get an opportunity to solve modernization tasks more successfully," and also "get a deserved place in global economy and modern political system."