Kyrgyzstan wants to join Customs Union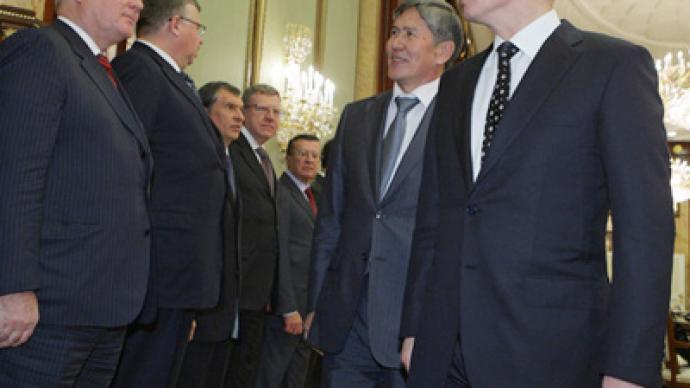 At a meeting with Russia's Prime minister Vladimir Putin in Moscow on Monday his Kyrgyz counterpart Almazbek Atambaev has urged Russia to resume plans for energy cooperation, put on hold due to Kyrgyzstan's political instability.
Atambaev has also expressed the willingness of his country to join the Customs Union. It is Atambaev's first working visit to Russia as prime minister since the formation of the coalition government earlier in December. The meeting was held behind closed doors. The Kyrgyz official delegation was made up of heads of the Foreign Energy and Agriculture ministries, as well as members of state customs, anti-drug and security services. On the Russian side there were representatives of the Finance, Foreign and Defense ministries, and top mangers of state-owned energy companies Gazprom, Gazpromneft, Inter RAO UES and RusHydro. "We are happy that the period of government formation is now over and do hope that you will all be able to tackle, first and foremost, economic problems. There have been lots of them – due both to the financial crisis and the turbulent political processes which have been affecting life  in Kyrgyzstan for quite a  long time," said Vladimir Putin at the meeting. The Russian premier noted that Moscow provided a 20 million dollar grant and 10 million dollars of non-repayable financial aid to its Kyrgyz partners. "Russia also sent 1.5 tons of grain and the needed amount of diesel fuel," Putin added. "But of course this was urgent help – to keep life going."Kyrgyzstan has been in desperate need of money, especially after several outbreaks of violence, including an uprising in April this year which led to the ousting of former president Kurmanbek Bakiyev. After six months of political turbulence the Kyrgyz people finally elected parliament in October. But the coalition government was only formed in December. The new cabinet is now trying to tackle the most pressing economic and social issues.Almazbek Atambaev said that Russia and his country should return to joint plans shelved due to political volatility in Kyrgyzstan. He also said Kyrgyzstan is seeking membership of the Customs Union, which now includes Russia, Belarus and Kazakhstan. "We see Kyrgyzstan as part of the Customs Union and single economic space, we regard Kyrgyzstan in an inseparable tie to Russia," he said. 
You can share this story on social media: