Champagne and sour grapes on post-election menu
Published time: 3 Dec, 2007 17:27
Edited time: 3 Dec, 2007 20:27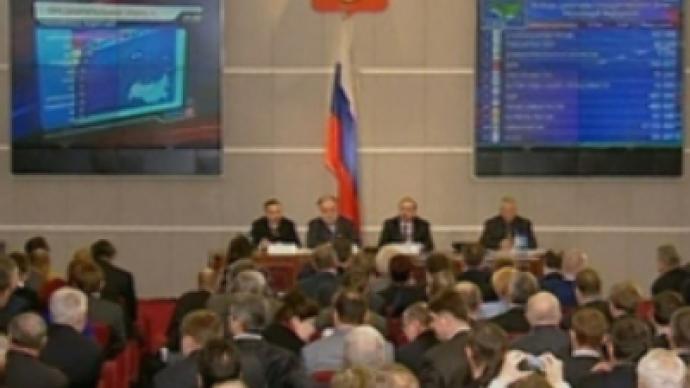 After the preliminary results of the parliamentary election were revealed, Russian politicians shared their views with the media and commented on the outcome.
Sergey Mironov, the leader of the Fair Russia Party probably didn't think he'd be in such high spirits at this stage. But rather unexpectedly for many, his movement seems to have made it into parliament. "Our party has justified its right to exist. Our party will work in the 5th State Duma and I'm pretty sure that our agenda will be supported by the majority of parliament," he said.
The atmosphere was totally the opposite in the communist camp, with the party having lost votes this time. Having pushed through the poky conference room cramped full of journalists, the communist leadership immediately lashed out at their main political opponents – United Russia.
"They pressurised and urged the people to vote in their favour and they seem to have succeeded. But what the outcome will be, you'll all see. A bird can't fly with one wing," said Nikolay Kharitonov of the Communist Party.
Such sentiment was shared by the opposition, which looks to have failed to become part of parliament. Both Yabloko and the Union of the Right Forces doubt the legitimacy of the vote.
"I've been in politics for two decades and I see this vote as the dirtiest election. It's clearly Putin's first victory achieved thanks to lies and dirty PR methods," said Boris Nemtsov of the Union of the Right Forces.
Anatoly Chubais, SPS (The Union of Right Forces) Political Council Member, said "The United Russia party is in huge danger as a result of today's election. In essence, this party is turning into a monopoly. It's becoming an obvious dominator. It's reviving all the Soviet symbols, the Soviet mentality, spirit and atmosphere."
The Liberal Democrats have had seats in every Russian parliament so far. This time, its leader, Vladimir Zhirinovsky, attributes the party's success to Andrey Lugovoy.
"The fact that Andrey Lugovoy is second in our party's electoral list has certainly not made us less popular and I hope has given us even more votes, because this man is a patriot who found himself at the centre of a plot by Great Britain," Zhirinovsky said.
Andrey Lugovoy appeared at a polling station with his son. Charged in Britain with the murder of former KGB officer, Aleksandr Litvinenko, he is running for parliament as number two on the list of the Liberal Democratic Party.
Mr Lugovoy said he doesn't know yet how he feels about his new position. "I am satisfied with the result, but I haven't thought of how I should feel in my new role. I will have to see if I am comfortable with the way of life I may have to lead for the next four years."
(To watch the full interview with Andrey Lugovoy please follow the link)