Moscow, London move to polonium-free relations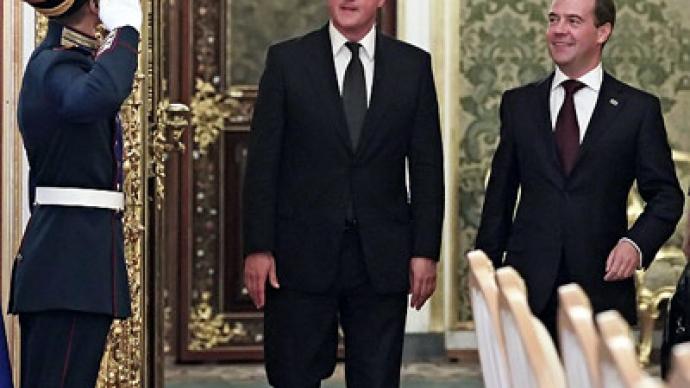 British PM David Cameron's visit to Moscow has not solved all problems in relations between Russia and the UK. However, it has opened the door for substantive discussions rather than mutual blame.
On Monday Cameron, accompanied by senior British businessmen, arrived in the Russian capital to meet with President Dmitry Medvedev. The meeting, as expected, did not bring any breakthroughs. Still, there is a feeling of modest success. RT columnist Fyodor Lukyanov gives at least two reasons for that."Unlike [the previous] Labor government, Cameron doesn't seem to be interested in making the Litvinenko affair the centerpiece of everything. Such an approach opens a window for the pragmatic settlement of issues of mutual interest," he writes in his piece. Read the full article here. Another RT contributor, Sergey Strokan, believes that while it is too early to speak about a "reset" inRussian-British relations, the sides have managed to make a step toward a pragmatic rapprochement."What is clear is that Alexander Litvinenko's misadventure did not fatally poison relations between our countries. So a step in right direction has been made – towards relations of a new type – pragmatic and polonium-free," Strokan says in his column."Exercising his 'delicate balancing act' in Moscow, Prime-Minister Cameron had to walk a tightrope, as the outcry over his visit in London reached an incredible pitch.It seems Mr. Cameron with all his remarkable ability to withstand pressure from his opponents did not imagine an onslaught of this proportion," the author notes. According to Strokan, the "love-hate" pendulum is swinging from one side to another, as it was 50 or, say, 100 years ago."We all remember the Stalin-Roosevelt-Churchill anti-Hitler coalition, and Soviet and British brotherhood-in-arms fighting the Nazis, but it was less than a year after the end of the Second World War that Prime Minister Churchill on March 5th 1946 in Fulton made his famous Sinews of Peace speech, widely regarded as the manifesto of the Cold War," he recalls.