Russia seeks "strategically stable" ties with UK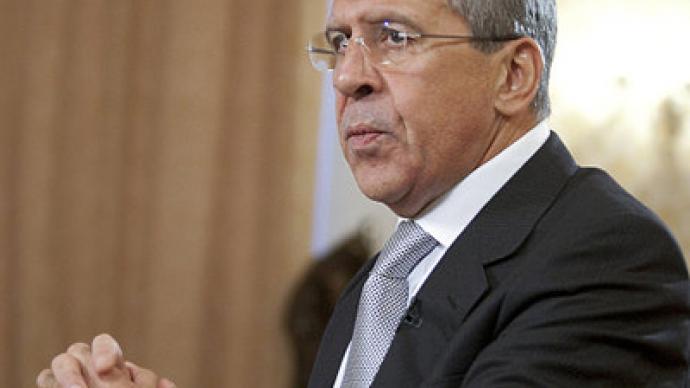 Russian Foreign Minister, who is in London for talks with the UK Prime Minister and his counterpart William Hague, says Moscow needs trust-based relations with Britain and is willing to cooperate.
This is the first high-level official visit since the surge in tensions between the two countries, following the death of former Federal Security Service officer, Aleksandr Litvinenko in London in 2006.Hopes were that the talks would help ease the strained relations, and in fact both Foreign Minister Sergey Lavrov and Foreign Secretary William Hague hailed the meeting as successful. The talks resulted in agreement to develop an economic partnership in a number of fields. Both sides confirmed their willingness to boost ties despite some political and diplomatic differences. "Political dialogue between Moscow and London is gathering momentum. Top-level contacts have set the keynote for multi-faceted British-Russian relations. This is set to continue this year, we are now expecting a visit [to Moscow] of Prime Minister David Cameron," Lavrov said, adding that Russia is ready for more "close, trust-based and strategically stable" relations.William Hague agreed, saying that Russia-UK relations are gradually improving.Sergey Lavrov stressed that fighting the terrorist threat is one of the areas in which Russia is eager to cooperate. "Unfortunately, anti-terrorist cooperation has been frozen, and it is not our fault," Lavrov noted. Visa-free regime between Russia and Europe has long been on the agenda between Moscow and the European Union. On Tuesday, Sergey Lavrov said the issue will be given closer attention in the near future and that some practical steps will be taken in this regard. "We noted the statement of Prime Minister Cameron in favor of visa-free travel of Russian citizens to the Schengen states. We hope that the same approach will be used in our bilateral ties since Britain is not part of the Schengen zone," the Russian foreign minister pointed out.Sergey Lavrov visited the London School of Economics where he arrived to open the Russian Business Week forum.Addressing the participants, he said that Russia's modernization could become a "pan-Europe project"."Modern Russia is a country in transformation, relying both on international and its own experience. Russia is searching to be a country of new opportunities, a country open for partnership, trade, investment, civil contacts and all kinds of projects in the public domain," he explained.Lavrov noted that in this regard, the Russia-Britain partnership has good prospects. "Britain is among the five largest investors in Russia. The recent agreement between oil giants, Rosneft and BP, in fact strengthens our strategic alliance and opens up unique opportunities for cooperation in various spheres, including science and technology," the minister added.Lavrov named six priority areas of cooperation with Britain, in his talks with Foreign Secretary William Hague. These include trade and investment, finance, high-tech, energy, business ties, and building up infrastructure for forthcoming Olympic events. He called the agenda rather "ambitious" though still "realistic".
The international agenda
The agenda of the talks is not limited to bilateral political issues. A wide range of internationally important questions are on the table, including, among others, the situation in the Middle East, the Arab world in general, European missile defense, the Russia-NATO partnership and Iran's nuclear program. Speaking at a news conference on Tuesday Sergey Lavrov brought up the recent turmoil in the Middle East."We are convinced that calls for a revolution are counter-productive. We in Russia have gone through more than one, that's enough. We believe that others should not be drawn into it. But we are also convinced that it is counter-productive to tighten the screws, to take one side," he said.As for the Iranian nuclear issue, Lavrov reiterated that Russia would not support any additional sanctions against Iran as they "will mean collapse of Iran's economy and social upheval for the general public." He also said that unilateral sanctions bypassing the Security Council like those introduced by the US, the EU and Japan undermine joint efforts within the 3+3 group.  "If we agree on a joint stance, we should stick to it," he stressed.  British Foreign Minister Hague did not talk about sanctions but said that London believes that peaceful pressure on Iran should be intensified.The situation in Afghanistan was also among the issues touched up by the Russian foreign minister and his British counterpart. At a news conference, they announced that they had adopted a joint statement on the issue, noting that both countries support a peaceful, stable and democratic Afghanistan free of drugs and terrorism.
Russia-UK bilateral economic partnership
According to British observers, the UK has the political will to boost ties with Russia, which is much the aim of the new coalition government headed by Prime Minister David Cameron. And his meetings with President Dmitry Medvedev on the sidelines of the G8 summit in Canada and the G20 summit in Seoul last year are seen as a proof of this. UK Foreign Secretary, William Hague's visit to Moscow last October, and Sergey Lavrov's current visit to London are also seen as a positive sign. Economic cooperation between Russia and Britain has been developing steadily. Russia is one of Britain's main trading partners. Over 1,000 British companies are currently operating in Russia. According to experts' estimates, the two countries' trade exceeds 17 billion dollars. Moreover, Britain is one of Russia's largest foreign investment partners.At the end of January, Russian oil giant, Rosneft signed a strategic agreement with BP, which envisages a share swap and oil development in Russia's Arctic Region. This deal is the biggest so far this year for British business world. So, it's no wonder that the Russian Business Week symposium has attracted much attention in London. Over the recent years, the event has turned into a major forum, where business people exchange opinions on key issues regarding Russia's economic agenda. This time much attention will be paid to the issue of turning Moscow into an international financial center.
You can share this story on social media: