Lukashenko strikes back, slams OSCE, US elections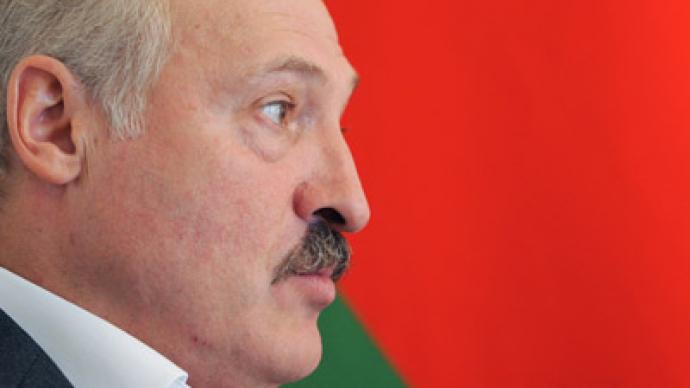 Belarus President Alexander Lukashenko said the Organization for Security and Cooperation in Europe (OSCE) has outlived its purpose, both for the West and East.
Bearing the brunt of western criticism for practically the duration of his tenure, Belarus President Alexander Lukashenko said the OSCE has outlived its usefulness.
Lukashenko argues that the 56-member OSCE "reflected the West and US interests when a powerful Soviet Union countered them." Today, however, with the sprawling Soviet Union a distant memory, the global community "no longer needs this organization."
The OSCE is no longer fulfilling its functions, therefore it is of no use for us, he told reporters in Minsk.
The Belarus leader, who has been vilified as "Europe's last dictator," said the OSCE tries to force nonexistent standards upon Belarus and other countries.
Lukashenko slammed such standards as "completely politically biased."
Russia in the past has expressed similar concerns toward the organization, which was established in 1973 at the height of the Cold War as an East-West forum.
In September, the Russian Foreign Ministry noted the "politicized approach" of the OSCE Office for Democratic Institutions and Human Rights towards the evaluation of the Belarus parliamentary elections.
"Once again the difference in evaluating elections vividly confirms the need to work out and adopt common, collectively agreed rules to monitor and summarize results of the voting process in the OSCE space," the ministry noted on its website. "Since 2007, a relevant draft document…submitted by the Russian side and several other member states has been open to negotiations in the OSCE".
The Belarusian president did not miss an opportunity to criticize the US election process, noting that international observers are warned if they cross a certain threshold at American elections they will be arrested.
"What if we acted like that," asked Lukashenko. "We invite them and Americans act as observers in Belarus. We don't arrest them, but…they want to be able to count votes."
It is a manifestation of double and triple standards, and we cannot allow it, he stressed.
Commenting on the day that the American people head to the polls to select the next president, Lukashenko said the "entire world laughs at these elections."
First, these are indirect elections; second, a man with a fewer number of votes can become the President. What kind of elections are those? But they like it this way, it is the tradition, the people are silent while the leaders are pleased. Well, may god be with you".
He concluded by saying that as long as Belarus continues to pursue policies "in the interests of our nation in order to preserve independence and self-determination…it will not be advantageous for them."
In such a situation, "they will challenge us and bomb us until their people rise to power in this country," the Belarusian leader warned.
"We should build our own life and repel those who infringe upon it," Lukashenko concluded.