Russia, Europe lock horns over Belarus elections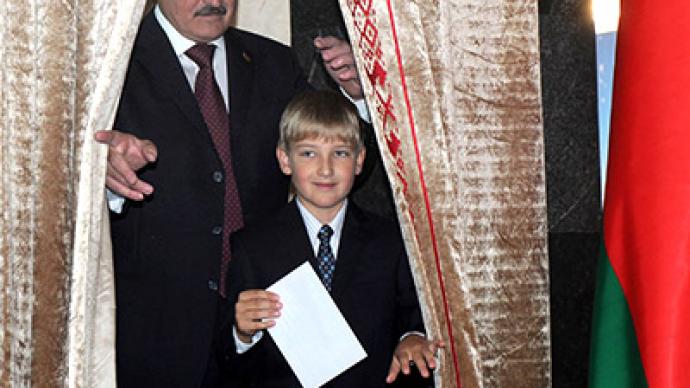 The Russian Foreign Ministry has determined that parliamentary elections in Belarus were fair and regrets the "politicized" opinion of the Organization for Security and Cooperation in Europe (OSCE) on the matter.
Belarusian President Alexander Lukashenko on Sunday received an overwhelming show of support in parliamentary elections as a majority of candidates loyal to his policies won seats in the National Assembly.Russia declared the elections a victory for democracy."The monitoring was conducted by numerous observers from the Russian Federation and various international structures, in particular, the Commonwealth of Independent States," the Ministry said in a report posted on its website on Tuesday. "They find the elections to be free, open, and conducted in a subdued atmosphere with high voter turnout." The Ministry then heaped criticism on the OSCE over its opinion on the elections."Unfortunately, as it usually happens in such situations, the 'special' attention of the OSCE Office on Democratic Institutions and Human Rights (ODIHR), whose tentative conclusions are again dominated by a politicized approach, creates dissonance," the ministry said.The Foreign Ministry expressed confidence that "citizens of Belarus were able to make their choice" in the elections.Matteo Mecacci, Head of the OSCE observation mission in Belarus, expressed a different view."These elections were not competitive from the start," Mecacci said. "A free election depends on people being free to speak, organize and run for office. And we didn't see this in this campaign."The OSCE said in its assessment of Sunday's election that the vote did not meet international standards.Only deputies supporting the policies of Lukashenko, who has been in power since 1994, won seats in the 110-seat legislature.Minsk responded by accusing the OSCE of offering "politicized reports and conclusions."Meanwhile, Belarus welcomed the work of the Commonwealth of Independent States (CIS)."We welcome the balanced and objective assessment presented by the CIS mission, which did a great deal to monitor the electoral process in Belarus," Belarusian Foreign Ministry spokesman Andrei Savinykh said in a commentary posted on the ministry's website.The Belarusian authorities sent out invitations to international election observers well in advance and provided all of the conditions needed for their efficient work, Savinykh added.