Belarus awaiting explanation on "teddy bear" invasion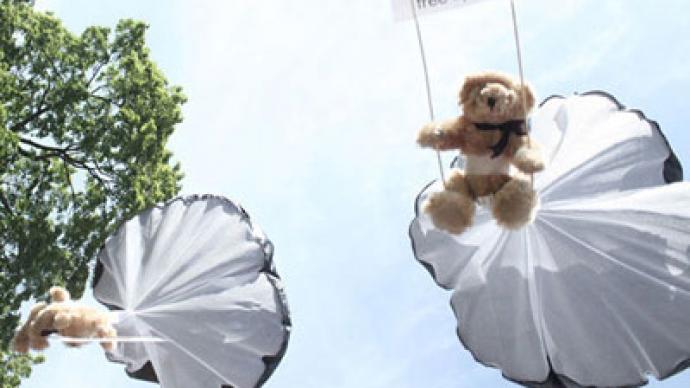 Belarus security officials say they are still waiting for the results of an inquiry into an incident involving an aircraft that entered Belarus airspace via Lithuania on July 4th and scattered hundreds of stuffed bears bearing messages.
"There have been no changes so far in terms of receiving any new information from Lithuania about the investigation of this matter," KGB spokesman Alexander Antonovich told Interfax on Wednesday.
Relations between Minsk and Stockholm deteriorated after the incident, when a light aircraft crossed into Belarus and dropped hundreds of teddy-bears.
The toys carried slogans urging Minsk to show more respect for freedom of speech and democracy.
The plane, which had been chartered by a Swedish PR firm, evaded Belarus air defenses after making their drop over the capital of Minsk.
The incident represented a major embarrassment for President Alexander Lukashenko and led to dismissals at the top of the country's Air Force and State Border Guard.
Early last month, Belarus' Office of the Prosecutor General asked Lithuania and Sweden to help investigate the incident, Antonovich said.
The chairman of the security and defense committee of the Lithuanian Parliament, Arvydas Anusauskas, said Lithuania was investigating the incident and would produce its findings before the end of September.
Minsk invited the three Swedes who organized the flight to Belarus for an interview with investigators. The men flatly refused.
If the perpetrators of this incident hoped they would make a difference in Belarus's parliamentary elections, they were mistaken.
Lukashenko on Sunday received an overwhelming show of support in parliamentary elections as an absolute majority of candidates loyal to his policies won seats in the National Assembly.
Alexander Lukashenko has served as President of Belarus since 1994.