Minsk labels Sweden's threats claims as slanderous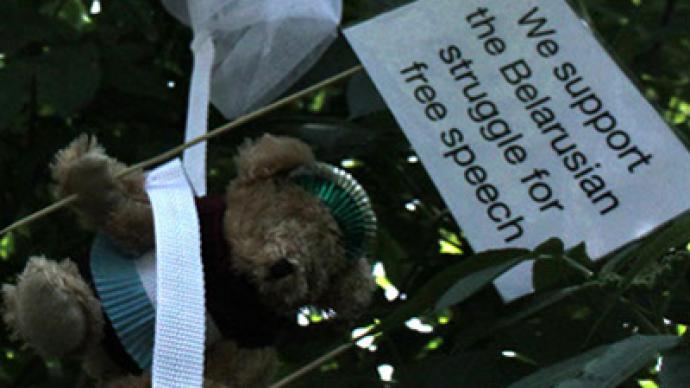 The Belarus Foreign Ministry has accused the Swedish Embassy in Minsk of libel after it claimed it is unsafe for Swedes to stay in the former Soviet republic.
"This is nothing but slander. It's even surprising that Swedish diplomats sink to that level," the ministry's spokesman Andrey Savinykh told RIA Novosti. "This is another proof they have no understanding of Belarus." On Tuesday, the embassy reported Swedish citizens in Belarus had been threatened and posted a travel warning on its website. It recommended they not wear national dress or symbols when in Belarus. Commenting on the issue, Savinykh underlined that it is absolutely safe for Swedes to stay in the country. "Everyone who knows our country at least a little bit and is not trying to deliberately demonize it, understands that such incidents are impossible here," he added. Relations between Minsk and Stockholm deteriorated after the July 4 incident, when a plane chartered by Swedish PR firm dropped hundreds of teddy-bears over Belarus. The toys were carrying slogans urging Minsk to show more respect for freedom of speech and democracy.About a month after the incident that became known as the 'Teddy Bear Airdrop,' authorities refused to extend the accreditation of the Swedish ambassador to Belarus, Stefan Eriksson. Minsk officials said he had been working in the republic for seven years, and all this time the diplomat's activity was "aimed at ruining Belarusian-Swedish relations rather than strengthening them."The move was strongly criticized in Sweden, which decided to expel the Ambassador of Belarus and two other diplomats.As the diplomatic row escalated, Minsk withdrew its embassy staff from Stockholm and demanded that Swedish diplomats leave Belarus by August 30. Belarus President Aleksandr Lukashenko, however, says the row is not linked with the teddy-bear invasion. "Some connect this problem with either teddy-bears or elephants. But these are absolutely different things," the BELTA news agency cited him as saying.
You can share this story on social media: