Airbjörn! Belarus brass axed as Swedish paratrooping teddies invade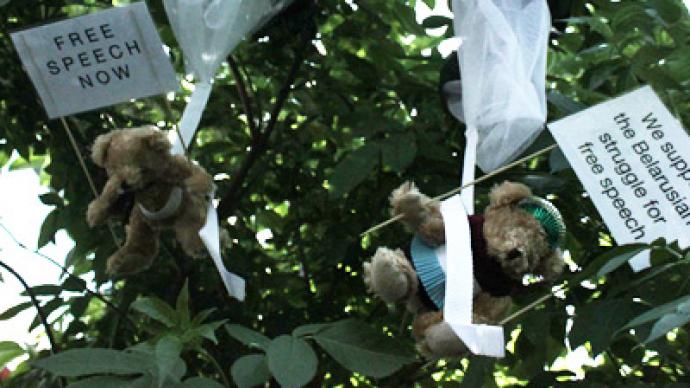 A month after thousands of teddy bears were dropped out of an airplane as part of a PR stunt, President Lukashenko dismissed top military brass for failing to protect the country's airspace from the "hostile invasion."
Belarus' State Border Committee, Air Force and Air Defense have all lost their commanders, who in July apparently failed to prevent a complete takeover of the skies by a small airplane, which dropped thousands of teddy bears with leaflets defending freedom of speech around the country. The minister of Defense and top officials of the State Security Council received severe reprimands from President Aleksandr Lukashenko.The stunt was orchestrated by Swedish advertisement agency Studio Total, known for its unorthodox advertising campaigns.Swedish news sources first reported the incident, adding their own colorful commentary. According to them, a plane piloted by two Swedes crossed into Belarusian airspace from Lithuania, dropping off teddy bears with "Support Free Speech" leaflets as it flew towards the capital of Minsk. Once the cargo was emptied, the pilots simply turned around and returned to Sweden.
Belarusian authorities initially denied that the incident had taken place. The (now former) head of Air Force insisted the reports were a provocation by foreign intelligence services seeking to lower the morale of Belarusian people.The denials were contradicted by a plethora of pictures and videos uploaded to the internet. The journalist who covered the Teddy Bear Airdrop was arrested on July 13 and spent 72 hours in custody while the authorities investigated his contribution. The government finally acknowledged the incident on July 26, three weeks after it occurred. Belarus, which has been ruled by President Aleksandr Lukashenko for the last 18 years, has been branded a totalitarian state by many human rights activists, and Lukashenko has frequently been called the "last European dictator." Alleged human rights abuses in the country, including freedom of speech and the press, have long been a source of tension between Lukashenko and the West. But there do seem to be certain forms of freedom of information in the country. Per Cromwell, head of Studio Total, said the flight over Belarus was easy to do, since information about the country's air defenses is freely available on the Internet.