Foreign mercenaries in Ukraine engage in bloody scuffle – media
Foreign fighters at a drunken party in Kiev allegedly ended up in brawl that left US, Canadian and Romanian nationals injured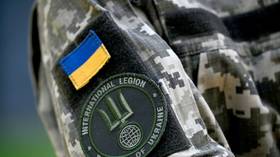 Four members of Ukraine's International Legion were involved in a drunken fight at a party last weekend in Kiev, news outlet 'Strana' reported on Saturday, citing police sources. The off-duty fighter's antics ended up with one of them stabbing and hitting the others, according to the website.
A Briton, an American, a Canadian, and a Romanian got together at a private residence in the southeastern part of the Ukrainian capital, 'Strana' explained. What started as a drinking session soon allegedly spiraled into a quarrel and ended up in a physical fight.
During the scuffle, the British man stabbed his American and Canadian comrades in their arms and legs with a knife, and hit the Romanian, breaking his jaw, according to the report. All three men were subsequently hospitalized, the source explained. The UK national has not yet been arrested, Strana added, detailing how Ukrainian law-enforcement authorities were still assessing the incident.
The motives behind the violence remain unclear. Neither officials in Kiev, nor Western representatives, have provided any comments on the situation so far.
Ukrainian President Vladimir Zelensky put out an appeal for foreigners to join the country's International Legion three days after Moscow launched its military operation against Kiev last year. Thousands answered the call, but stories soon emerged of ill-prepared recruits, incompetent commanders, and horrific losses. Foreign fighters in Ukraine have since consistently described conditions on the front line as "hell," with casualty rates in some units during the summer counteroffensive reportedly as high as 85%.
The Russian Defense Ministry estimated in July that around 12,000 hired guns had traveled to Ukraine since the start of the conflict. As of July, just 2,200 remained in the country, with 5,000 killed and the rest fleeing Ukraine, the ministry added.
In September, the British Foreign Office confirmed another incident, this one involving a UK national in Ukraine. The remains of a British mercenary – identified as Jordan Chadwick – were discovered tied up in a body of water during the summer, it reported.
It was unclear where Chadwick had died or who killed him. Likewise, whether the Briton drowned to death or was dead before he ended up in the water is unknown. The Ukrainian authorities said at that time, though, that an investigation into the incident would be launched no sooner than February of next year.
You can share this story on social media: