Putin says 'something unexpected' about LGBTQ
The group is part of modern society, but its values shouldn't become a mandatory requirement for winning cultural festivals and events, the president said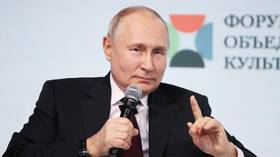 Members of the LGBTQ community and its culture are part of a modern society and shouldn't be barred from being represented at cultural events or contests, Russian President Vladimir Putin believes. At the same time, such themes must not be mandatory criteria for winning said contests, as appears to occur in the West, he suggested.
The president made the remarks on Friday as he spoke at the 9th International Culture Forum in St. Petersburg. Putin was asked by Emir Kusturica, the iconic Serbian film director and screenwriter, about his opinion on LGBTQ topics becoming a mandatory requirement for winning certain film contests in the West.
"Yes, indeed, we see that at various competitions in Western countries, in order to win something, you need to either tell, write, or show the lives of sexual minorities, transgenders and transformers – many different names for them," Putin stated.
But I'll tell you something unexpected. They too – these topics and these people – have the right to win, show and tell, because this is also part of society. This is also what people live by. It's bad if they just win all sorts of competitions, that's of no use.
The president stressed that "equality" should be a universal principle, including in cultural contests.
The International Culture Forum is currently underway in St. Petersburg, set to go on until November 18. This year, the major international event is titled the 'Forum of United Cultures.' The Forum brings together representatives of some 70 nations from around the globe, including more than 30 culture ministers, and hosts multiple events that end with panel discussions on various culture-related matters and an international dialogue.
You can share this story on social media: