Ukrainian fighters break humanitarian truce
Kiev's forces opened fire on Russian troops despite having previously agreed to a temporary ceasefire, an RT correspondent has reported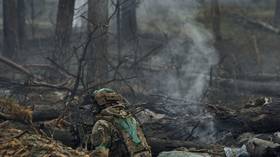 Russian and Ukrainian forces near the city of Kremennaya in Russia's Lugansk People's Republic managed to establish a temporary humanitarian truce, only to see it broken by the Ukrainian side, RT correspondent Murad Gazdiev reported on Wednesday.
Writing on Telegram, Gazdiev said that brigade leaders from both sides agreed to a ceasefire that would last from 9am to 7pm to allow both forces to collect the bodies of the dead that had been left in neutral ground.
Gazdiev reported that hostilities did in fact cease initially. However, Ukrainian troops then began dragging trees and logs to their trenches and fortifying their positions. Approximately 40 minutes later, as soon as Russian evacuation groups moved out, the Ukrainian forces, sitting in their fortified trenches, opened fire using howitzers and mortars.
The results of the incident have not been disclosed, but other reports from the area on Wednesday suggested that a group of Ukrainian troops had later surrendered to Russian forces.
War reporter Mikhail Andronik shared videos purporting to show a Ukrainian soldier coming out onto a road bearing a light cloth. That was after he contacted the Russian side using an open radio channel. Soon after, two other fighters also came out and surrendered their weapons, as well as several crates of ammunition. One of the weapons, according to the correspondent, was a Western machine gun.
Another report by retired LPR lieutenant colonel Andrey Marochko also claimed the Ukrainian military near Svatovo-Kremennaya had requested an emergency evacuation using air ambulances from the area. The military expert suggested that the actions of the Ukrainian forces indicated they were trying to evacuate a wounded high-ranking supervisor or a senior commanding officer.
The Russian Defense Ministry has yet to confirm or deny the reports. However, in its daily update on Wednesday, it stated that Kiev's forces had lost a total of up to 55 servicemen, two armored fighting vehicles, two cars, as well as two howitzers in the Krasnoliman direction.
You can share this story on social media: