Concealed mortar obliterated in Russian howitzer strike (VIDEO)
The Ukrainian weapon was reportedly spotted from a drone in a Kiev-controlled village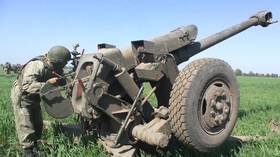 A Russian frontline unit has shared footage with the media of one of its operations, which involved finding and destroying a camouflaged Ukrainian mortar hidden in a village.
The video, which RIA Novosti published on Thursday, was provided by a howitzer battalion. Its leader said he was aware of the presence of the Ukrainian weapon in the general area and asked for assistance from a fellow recon unit to pinpoint the target.
"As usual for us, it was discovered with the help of drone operators from the Sparta battalion," he said, referring to a unit that originated as part of the militia of Russia's Donetsk People's Republic.
The footage showed the weapon covered by a camo tarp placed in a foxhole among several rural buildings. The same location then came under fire from Russian artillery, filmed from a distance.
The drone operator experienced interference by a Ukrainian electronic warfare team, the source explained, but the intelligence was deemed good enough to fire ten 122mm shells at the defensive position.
"The house that most likely served as a shelter to the mortar crew was destroyed," the artillery leader said.
The news agency identified neither the location of the strike nor the battalion which claimed credit for the hit, only reporting that it is manned by recruits from the Urals.
Earlier this week, the Russian Defense Ministry released footage of what it said was the destruction of some 3,000 tons of Ukrainian munitions in a precision strike. The depot was located near the village of Kiselyovka in Kherson Region. People in the formerly Ukrainian part voted to join Russia last year amid the armed conflict, but parts of it remain under Kiev's control.
You can share this story on social media: