Russian military destroys major Ukrainian ammo depot – MOD (VIDEOS)
The facility contained around 3,000 tons of ammunition, Moscow claims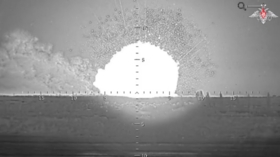 A major Ukrainian ammunition stockpile has been destroyed by a high-precision air strike in Kherson Region, the Russian Defense Ministry has said.
The depot, located near the village of Kiselyovka, was hit by a cruise missile on Monday. The stockpile contained over 3,000 tons of ammunition, according to the Russian military's estimates.
Footage of the strike released by the military on Tuesday shows the depot being obliterated by a massive secondary detonation, with burning debris scattered in a large radius. All in all, 12 hangars with ammunition were completely destroyed in the strike.
The military released additional footage of the strike on Wednesday, sharing a drone video of the aftermath of the blast at the Kiselyovka depot. The video shows multiple buildings at the site were flattened, with smoke rising from the rubble.
Recently, Russia has apparently ramped up its strikes against Ukraine's forward military infrastructure, targeting ammunition stockpiles, hangars with heavy armor, and other sites.
Last week, the Russian military reported the destruction of 12 major facilities of this type, including stockpiles of Western-supplied cruise missiles and depleted uranium tank shells. The targets also included Ukrainian aircraft and armored vehicle repair facilities, oil refineries, depots, training centers for Ukrainian saboteurs, as well as housing for foreign mercenaries, the military said in a statement last Saturday.
You can share this story on social media: