US refuses to invite Putin to Pacific summit – envoy
Washington is determined to pursue a policy of confrontation with Moscow, senior diplomat Marat Berdiyev has said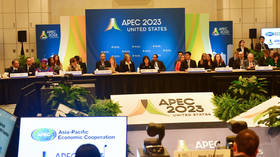 The US has informed Russia that President Vladimir Putin will not be invited to the Asia-Pacific Economic Cooperation (APEC) forum in San Francisco this autumn, a senior Russian diplomat has revealed.
Marat Berdiyev, Moscow's ambassador-at-large and chief representative to APEC, told RIA Novosti on Tuesday that the US "is not going to invite a number of leaders this year due to the fact they are under sanctions."
The diplomat described the decision as "deplorable" and claimed it was further proof of Washington's "bad faith" approach to diplomacy. The US "maintains a confrontational course on issues of multilateral economic cooperation" while politicizing a purely economic forum, Berdiyev added.
Nevertheless, the diplomat noted that Moscow would continue to press the US to fulfill its obligations as host of the APEC gathering, which is scheduled for November 12-18.
The US imposed sanctions on Putin and numerous other senior Russian officials, including Foreign Minister Sergey Lavrov, shortly after the start of the Ukraine conflict in February 2022.
American plans to exclude the Russian leader from the APEC forum were first reported in July by the Washington Post, which pointed out that Putin could only travel to the US with a special waiver. The Post also noted that the White House had barred Hong Kong Chief Executive John Lee – also blacklisted by the US – from attending the summit, sparking outrage in China.
Responding to the news regarding Putin, Kremlin spokesman Dmitry Peskov said that Moscow had not been seeking an invitation from the US. Meanwhile, the White House signaled that it would work with Russia and other APEC economies "to ensure appropriate participation in San Francisco."
Russian officials have repeatedly accused the US of abusing its host status by attempting to politicize the forum's agenda. They also allege that Washington has discriminated against Moscow's representatives by failing to issue entry visas and denying them the opportunity to join APEC sessions via video link.
APEC is an international forum that includes 21 regional states and accounts for nearly 40% of the world's population, as well as around 60% of global GDP. Its main goal is to promote free and open trade and investment, and to support sustainable economic growth.
You can share this story on social media: