European country demands Canada apologize for applauding Ukrainian Nazi SS veteran
Belarus accused Canada of deliberate attempts to whitewash Nazism and rewrite history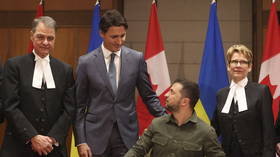 Minsk has demanded an official apology from Ottawa, insisting that praising a Ukrainian man, who served in Adolf Hitler's Waffen SS forces during World War II, as a "hero" was not an accident, but rather a "quintessence" of the long-standing policy of Canada.
"Belarus, which lost every third citizen in the Second World War, is outraged and deeply offended by the footage of honoring a veteran of the SS division 'Galicia' in the House of Commons of the Canadian Parliament," the Foreign Ministry of Belarus said in a statement on Monday.
Yaroslav Hunka, 98, a former member of the SS 14th Galician Division, was given a standing ovation in the chamber during the visit of Ukrainian President Vladimir Zelensky on Friday.
After the incident sparked outrage from Jewish organizations, Prime Minister Justin Trudeau's office has thrown Speaker Anthony Rota under the bus, saying they were unaware of Hunka's past. Rota also claimed that he only "subsequently become aware of more information which causes me to regret my decision" to publicly call him "a Ukrainian and a Canadian hero."
Minsk, however, believes that "such a cynical attitude to the memory of thousands of innocent victims of Nazism is not an accident, as the organizers of this show are now trying to portray it."
"It is a kind of quintessence of the long-standing consistent policy of the authorities of Canada and a number of countries of the collective West to cover up and whitewash Nazi criminals and to deliberately condone attempts to rewrite history," the foreign ministry said.
Belarus said it awaits an "official apology" from the leadership of Canada, and in the meantime demanded that "international and public organizations, associations and foundations commemorating the victims of the World War II give a proper legal and moral assessment of this incident."
You can share this story on social media: