'Slava Ukraini'? How Canada feted a WW2 Nazi veteran and unleashed an international scandal
House Speaker Anthony Rota has apologized to the Jewish community for honoring an ex-member of an SS unit in the chamber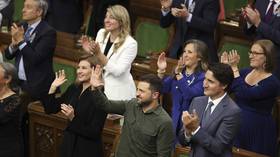 The speaker of the Canadian House of Commons was left red-faced after honoring an elderly Ukrainian war veteran in the chamber in front of the visiting Ukrainian president. The Canada-based "hero" served in a German Nazi unit.
Prime Minister Justin Trudeau's office has thrown Speaker Anthony Rota under the bus, saying he was not aware of Yaroslav Hunka's allegiance during World War II when he joined the celebration alongside Ukraine's Vladimir Zelensky.
The incident sparked outrage from Jewish organizations, who said the unit's record of atrocities must not be obfuscated.
You can share this story on social media: