Russian military has adapted to battlefield – WSJ
This could make it "difficult" for Kiev to reclaim lost territories, the US outlet suggests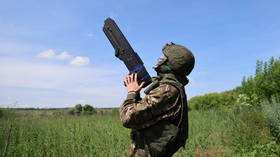 Russia's military has "steadily adapted" to changes on the battlefield in its fight with Ukraine, casting doubt on Kiev's plans to win back areas controlled by Moscow, the Wall Street Journal has reported.
"The Russian military is showing some capacity to learn from early mistakes," the US outlet said in an article on Saturday.
This ability to change tactics "could make it difficult for Ukraine to expel Russian forces from its territory," [sic] it warned. According to the WSJ, Moscow is "shifing to a strategy of wearing down Ukraine and the West."
The conclusions of US journalists have been supported by General James Hecker, commander of US Air Force in Europe, who said that "we have seen quite a few areas where they [the Russians] are adapting, and of course we're paying close attention to that."
The WSJ provided several examples of the Russian army changing its approach in response to Ukraine's tactics and Western-supplied hardware.
Following the advances of Kiev's troop in Kharkov Region last fall, "Moscow spent months preparing formidable defenses ahead of the current Ukrainian counteroffensive," it said. Because of those fortifications, "Ukrainian forces have advanced slowly in the past few months, facing dense minefields while Russian helicopters, antitank missiles and artillery pick them off."
Moscow has been deploying various types of drones to target the Ukrainian positions "in a way that Kyiv has struggled to respond to," the article said. Electronic warfare has also been employed on a large scale, with Ukrainian troops operating near Artyomovsk (known as Bakhmut in Ukraine) complaining that they "lose dozens of drones daily because Russian jamming equipment is successfully bringing them down on enemy territory," it added.
According to the WSJ, guidance systems have been installed on older Russian bombs, which are often fired from planes outside Ukrainian airspace. "Ukraine struggles to detect and shoot them down with their Soviet-era aircraft," it acknowledged.
Moscow has moved its command posts and arms depots further from the frontline, putting them out of reach of HIMARS multiple rocket launchers, provided to Kiev by the US, the article noted.
Russia's military-industrial complex has also been adapting, "managing to sustain and even increase defense production of some items despite sanctions," the outlet stressed.
The Ukrainian counteroffensive has been underway since early June, but Kiev has so far only reported the capture of a handful of small villages some distance from the main Russian defense lines. President Vladimir Putin said earlier this month that Ukraine has lost more than 71,000 troops and over 540 tanks since the beginning of the operation, while failing to achieve any significant results on the battlefield.
You can share this story on social media: